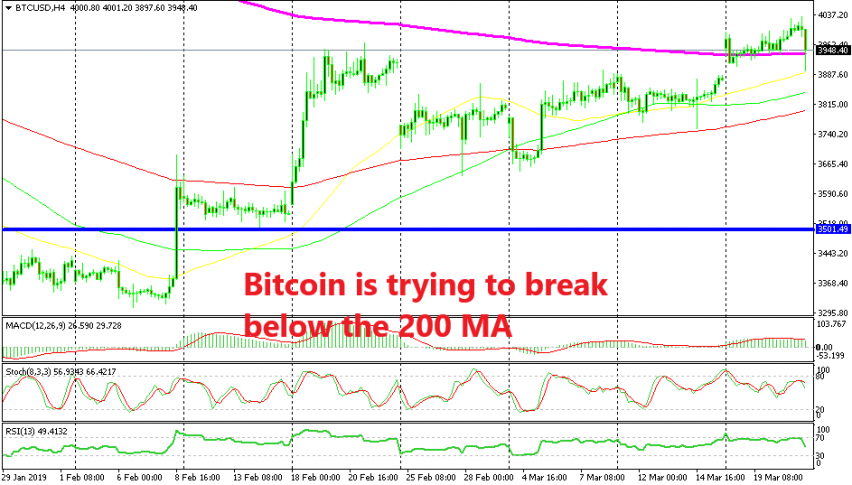 Bitcoin Pierces the 200 SMA but Stays Above
Cryptocurrencies have turned bullish in the last two months, although don't expect a bullish run like the one we saw at the end of 2017. The volatility has decreased dramatically and the buyers are much more cautious now after the major bearish reversal last year.
This year, BITCOIN hasn't made new lows which is a good sign. In fact, it has formed a not-so-steep bullish trend, raising from above $3,000 to around $4,000. The price had been trading below the $4,000 level and below the 200 SMA (purple) but over the weekend the price finally broke above this moving average.
The 200 SMA turned into support for this pair all this week as we can see and Bitcoin buyers have been leaning on it. Today, we saw this altcoin make another push higher and the price pushed above the $4,000 level, reaching $4,033 on my platform but the sellers jumped in and we saw a quick reversal in the last few hours.
The price formed a doji candlestick on the H1 time-frame chart which was followed by two bearish candlesticks. Bitcoin pierced below the 200 SMA on the H4 chart as you can see above, but has pulled back above it again and now it is trying to make its mind up whether it wants to remain above or below this moving average.
We can take two things from this sort of price action;
The sellers became active above $4,000 which means that that level offers strong selling pressure
If the 200 SMA gets broken, the pressure to the downside will increase further.  
We are still short on Bitcoin from further below so we are happy to see that the traders are reversing their positions at the $4,000 level. But the 200 SMA is holding on for now; once it gets broken, the sellers will get even more aggressive.