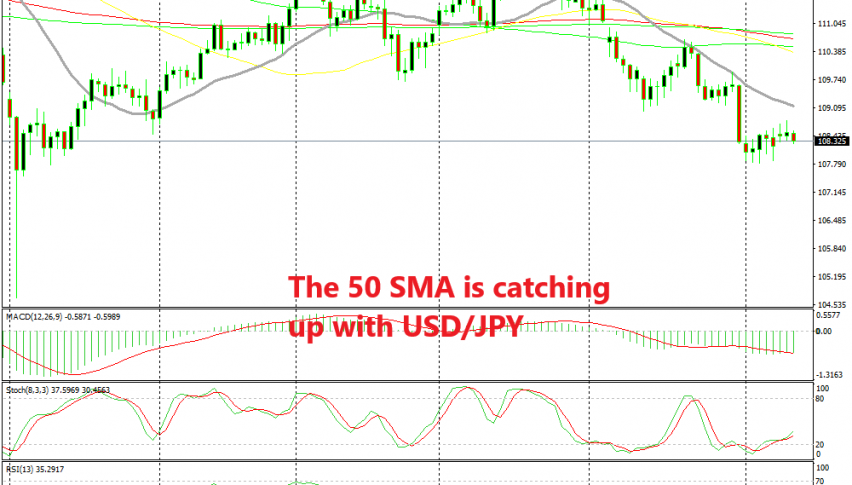 Watch Out for a Bearish Reversal in USD/JPY as the 20 SMA Catches Up on the Daily Chart
USD/JPY has been on a bullish trend since the beginning of this year after crashing around 5 cents lower at the end of last year. But the sentiment improved in the financial markets during the first few months of this year and this pair recuperated the losses of that crash.
But the trade conflict escalated again and, towards the end of April, USD/JPY turned bearish again as the conflict hurt the sentiment, which in turn increases the demand for safe havens. So, this pair has turned bearish again and lost around 400 pips from top to bottom in the last several weeks.
We have seen two retraces higher this month, both of which ended at the 20 SMA (grey) on the daily chart as you can see above. The 100 SMA (green) also helped in the first pullback, while the second one was totally the work of the 20 SMA. Now the 20 SMA is catching up with the price again and it will likely bring an end to this latest pullback.
The market sentiment is still pretty negative and the trade war is escalating instead of heading towards a solution, with both parties remaining steady on their position. So, things will likely get worse which means more demand for safe haven assets. But, I will wait for the 20 SMA to catch up first and then look for a reversing signal, such as the morning star and the doji which formed below the 20 SMA before the bearish trend resumed again.