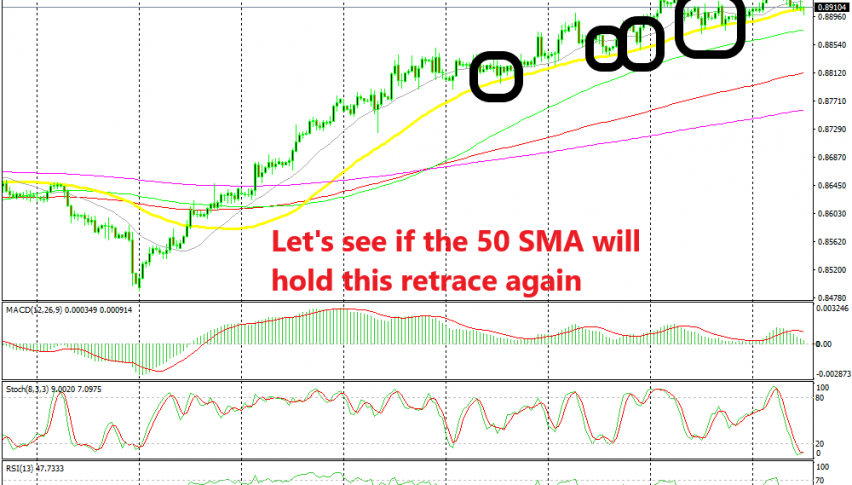 Buying the Pullback in EUR/GBP at the 50 SMA Again
The inflation report that was released this morning from the UK was seen with a positive eye. Both headline and core CPI (consumer price index) ticked lower but at 2.0% and 1.7% respectively, inflation is still growing at a decent pace. Markets were also anticipating some weaker figures after having seen some really bad figures from the UK, showing that the British economy is in a slump at the moment, and hence the positive sentiment for the GBP after the inflation report was released.
As a result, GBP/USD climbed around 40 pips higher this morning. But, the politics are in a mess in Britain and the economy is deteriorating, so the rally in the GBP is a good opportunity to short it. But, since the FED is coming up later this evening and they are expected to make a dovish reversal, I think it is safer to sell the GBP against other currencies.
EUR/GBP has been on a strong bullish trend in the last several weeks, so I think the bets are higher for us if we bought this pair, which we did. The trend has slowed in the last few weeks, but the 50 SMA (yellow) keeps providing support on the H4 time-frame, thus pushing the price higher.
Although, in the last few sessions the price has retraced back down, especially after Draghi's comments yesterday about rate cuts from the ECB. Now the price is back at the 50 SMA which is providing support again as this pair has moved abuot 10 pips higher from there. The stochastic indicator is also oversold now which means that the pullback is complete. So, we decided to go long on this pair once again at the 50 SMA.