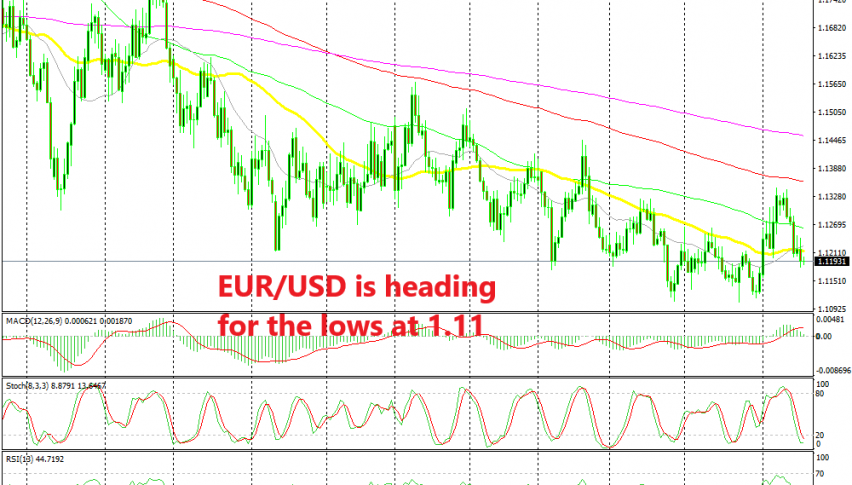 The Downtrend Remains in EUR/USD as it Slips Below MAs Again
EUR/USD turned sort of bullish in the previous two weeks on the back of a weaker Dollar, after we saw a number of economic data from the US come out pretty soft. This pair bounced off the support area above 1.1 and climbed more than 200 pips in more than a week.  The economic situation in Europe is much worse and Brexit is an additional risk factor, so the Euro has more reasons to decline than the USD.
EUR/USD started to reverse by the middle of last week, but the decline stopped at the 50 SMA (yellow) which has been providing resistance for this pair previously as you can see from the daily chart above. So, there was a possibility that this moving average could turn into a support indicator now. In that case, the downtrend might change for EUR/USD for some time. But that didn't happen.
The European Central Bank (ECB) turned more dovish yesterday as President Draghi mentioned rate hikes for the first time in a long period. Inflation has softened considerably in Europe, the economy is pretty weak and the economic sentiment turned quite negative again yesterday, so the ECB has all reasons to turn bearish.
Those comments from Draghi yesterday sent EUR/USD around 60 pips lower and the price made a clear break of the 50 SMA and the 20 SMA (green) just after that. That move puts EUR/USD back on the larger bearish trend after that pullback higher, but the sellers still need to break the support area above 1.11 for the downtrend to extend further.
With the ECB turning more dovish, the sellers should have it easier this time around, but the FED might ruin plans for them in today's meeting. So, we will look at the FED statement closely today.