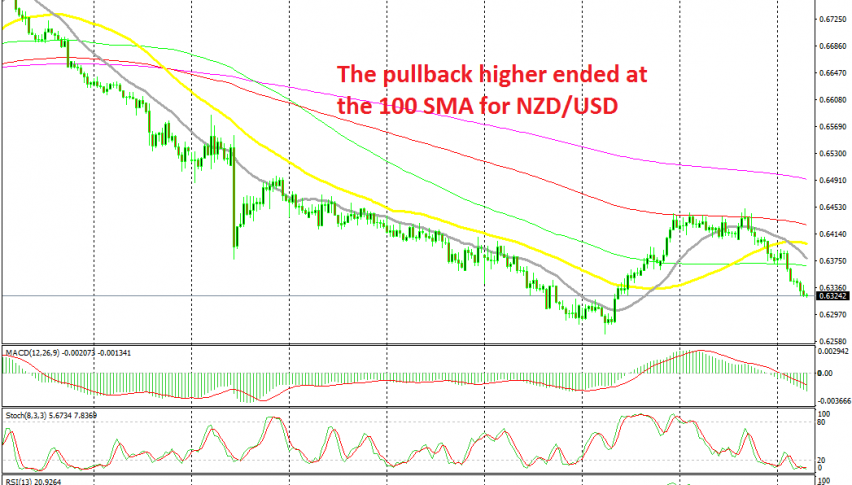 NZD/USD Resumes the Downtrend After Failing at the 100 SMA
Commodity currencies have been on a bearish trend for a long time, although during June and July they put up a fight and retraced higher. The retrace didn't last long though, as the global economy kept weakening, the trade war precipitated and the market sentiment deteriorated further.
The retrace ended at the end of July after the Reserve bank of New Zealand cut interest rates for the second time in a few months and, as a result, this pair lost more than 500 pips during August. The bearish trend was really strong as shown by the 20 SMA (grey) and the 50 SMA (yellow) which provided resistance and pushed the trend down.
But the sentiment improved again in September after comments and rumours that China and the US might sit at the negotiation table once again. Risk assets such as stock markets and commodity Dollars turned bullish and NZD/USD climbed nearly 200 pips. But, the buyers couldn't push above the 100 SMA (red) on the H4 chart.
They tried through most of last week, but failed to do so despite piercing it a few times. Eventually, they gave up and sellers took control. I was hoping that the moving averages which were providing resistance during the decline would turn into resistance, since AUD/USD has been holding up well. NZD/USD did find some support at the 50 SMA (yellow) at the end of last week and at the 100 SMA (green) yesterday, but those moving averages were eventually broken.
Now, there's no indicator left which could provide support and reverse the price higher. So, the conclusion is that this pair has resumed the larger bearish trend again, although buyers should push below the previous lows for the downtrend to stretch further.