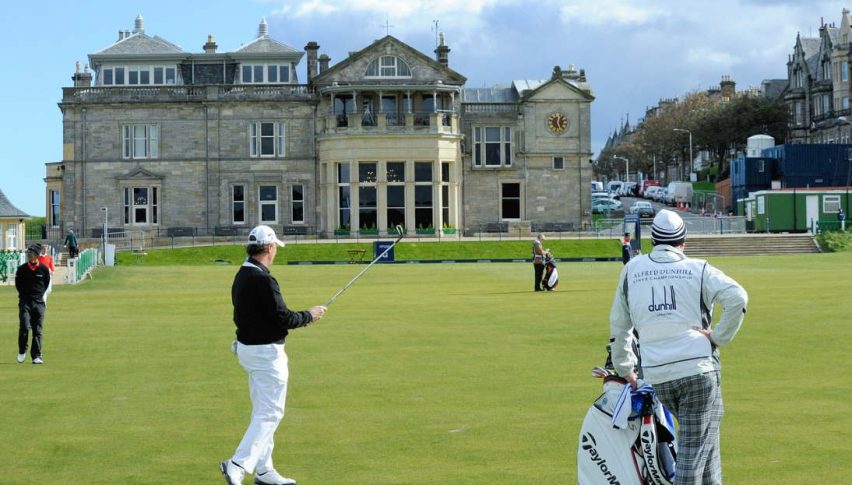 Par Value Back In Play For The USD/CHF
Safe-havens are under pressure today, led by flagging gold and Swiss franc valuations. The theme of the U.S. session is once again "risk-on" as equities hammer north into uncharted waters. At the halfway point of the trading day, the DJIA DOW (+257), S&P 500 SPX (+16), and NASDAQ (+59) are posting bullish intraday trends. The bids in U.S. equities has sent gold lower by nearly 2% and the USD/CHF on a freight train toward par value.
The drivers of today's equity market rally are a bit obscure, given this morning's limited U.S. economic calendar. Better-than-expected Continuing Jobless Claims (Oct. 25) and Initial Jobless Claims (Nov. 1) suggest that employment is getting a surprise bump from consensus projections. While these figures are unlikely to be driving the action, they certainly aren't discouraging equities players from lining up at the trough.
For the time being, positive action in stocks is being attributed to trade war optimism. Although the signing of the Phase 1 U.S./China trade deal has been delayed until at least December, positive sentiment is running high. Reports from China's Commerce Ministry suggest that there may be a widespread "rollback" of tariffs as Phase 1 is signed. While there are no details at this time, traders are running with the ball in anticipation of the deal being a game-changer.
Unfortunately for the safe-havens, values are down across the board. At press time (1:15 PM EST), the USD/CHF is driving toward par value. 
Par Value Back In Play As Traders Go "Risk-On"
For the second time in as many days, President Trump is lighting up Twitter in approval of the stock market rally:
"Stock Market up big today. A New Record. Enjoy!"
Stocks aren't the only asset on the bull ― the USD/CHF is rapidly approaching par value (1.0000) for the first time since early October.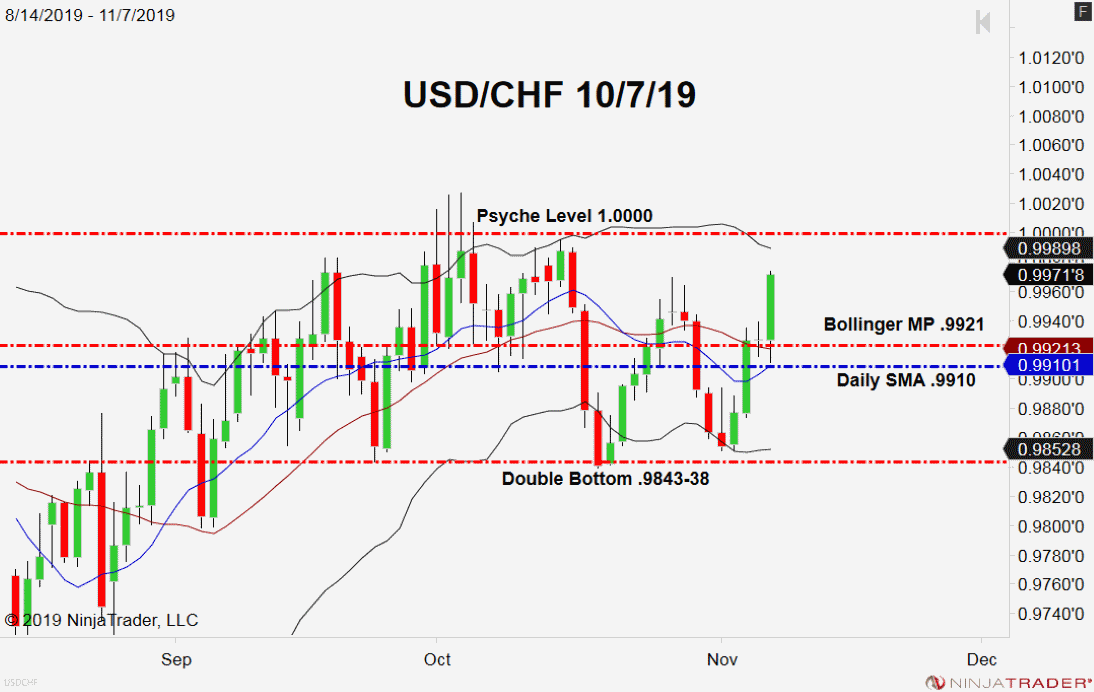 Here are two levels to watch in the Swissy as the late-session approaches:
Resistance(1): Upper Bollinger Band, 0.9989

Resistance(2): Par Value, 1.0000
Bottom Line: No doubt about it, risk is on and the markets are trending. If the USD/CHF continues its rally, a short from just beneath par value may set up later in the session.
Until elected, I will have sell orders in queue from the daily chart's Upper Bollinger Band at 0.9989. With an initial stop above October's High at 1.0031, this trade produces 42 pips on a late-week retracement back toward the .9950 value area.