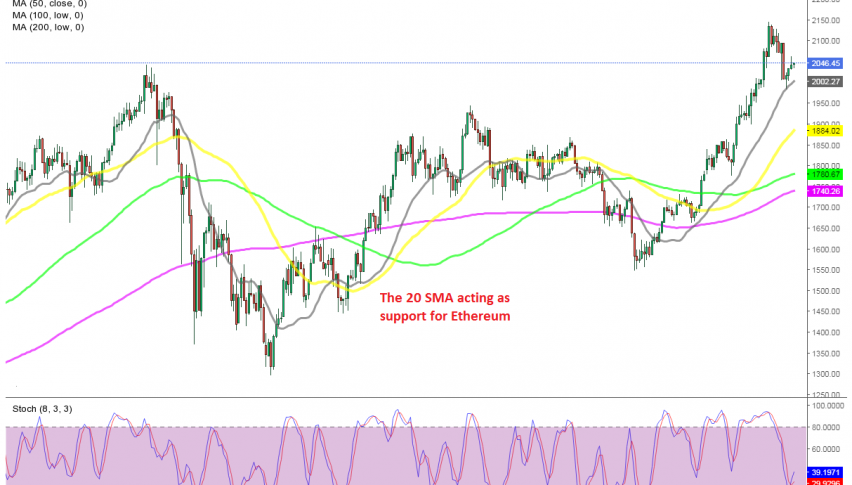 Holding on to Our Buy Ethereum and Litecoin Trades, As the Situation Only Gets Better for Cryptos
The situation for cryptocurrencies keeps getting better. They started as an interesting new technological development about a decade ago, when Bitcoin was introduced, but the broader public didn't see much interest on then. It was only until late 2017 when the crypto surge attracted a lot of attention on a global scale.
That positive momentum didn't last long as cryptos returned lower in the beginning of 2018, but it was enough to get the snowball rolling and the number of digital currencies has rocketed. The coronavirus turned out to be a great event for this new market, which boomed during 2020 and is continuing the same price action in 2021.
The increased political, social and economic uncertainty that has everyone wandering where we will be heading as a world, has been helping cryptocurrencies. They have acquired the safe heaven status, as the traditional safe havens such as Gold have turned bearish since August last year.
Bitcoin has been leading the way up, breaking above $60,000 by the middle of March. Although in the last week it seems like ETHEREUM has taken the lead in the crypto market. Ethereum increased above $2,000, making new record highs. We upen a buy Ethereum signal in February during the big dive and are now more than $300 in profit, which means more than 3,000 pips. We explained our bullish bias for this cryptocurrency, in our Ethereum 2021 price prediction/forecast.
One of the reasons for the latest bullish tun in Ethereum is the fact that Ethereum has been outperforming in recent month, lagging behind other cryptos and the latest surge was an attempt to catch up with the massive surge in the crypto market. Ethereum has been plagued by scaling issues, such as very high gas fees that mean processing Ethereum transactions is very expensive.
But, the two major updates coming to Ethereum over the next couple of months that will make Ethereum deflationary and reduce gas fees are likely to have a big upwards effect on the price, as Ethereum bridges the gap between Ethereum 1.0 and Ethereum 2.0.
In addition to all of that, Jay Clayton – former Chairman of the SEC – has got his first new job having left office. Surprise surprise, he is giving advice to One River Asset Management – a $2.5billion Hedge fund on how best to play the cryptocurrency markets.
Despite what the governments around the world are doing to quell the growth of crypto, every time they leave office they first thing these major players do is provide crypto services. This man that spent the past five years telling everyone not to buy Bitcoin, but he is now providing advice to hedge funds on how to buy Bitcoin. So, this looks/sounds quite bullish for cryptocurrencies and has also been helping them in the past week.
Yesterday we saw a pullback in cryptos, but it seems like the retrace might have ended and the 20 SMA (gray) provided support for Ethereum on the H4 chart. Now the retrace seems complete on this time-frame, as the stochastic indicators shows and the price is reversing higher again. So, we are holding on to our buy signal in Ethereum, expecting the bullish trend to resume soon.