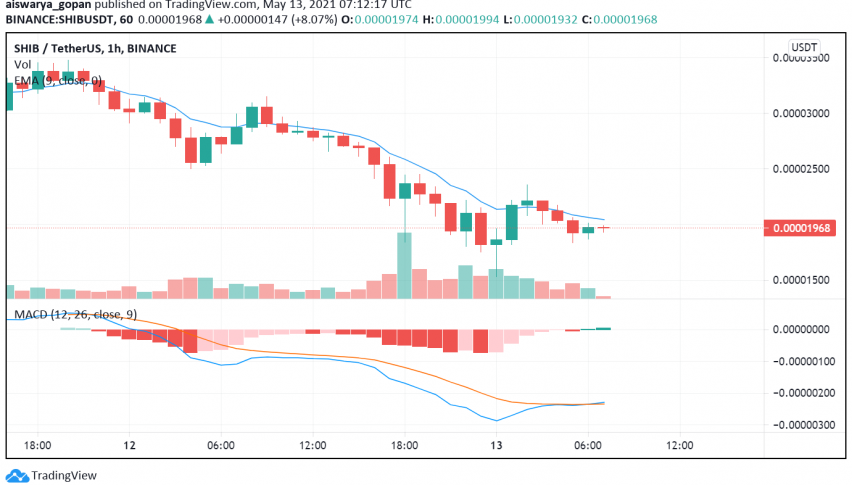 What's Happening With Shiba Inu (SHIB)?
Dogecoin killer and emerging memecoin Shiba Inu (SHIB) is still trading bearish after experiencing a massive sell-off in the previous session, driven by Ethereum co-founder Vitalik Buterin's. Buterin decided to donate over $1 billion worth of SHIB towards India's COVID-19 relief efforts, but markets took it as an effort to dump the digital asset, causing its value to plummet unexpectedly.
At the time of writing, SHIB/USDT is trading at around $0.000019. The rising popularity of Dogecoin – one of the biggest memecoins, had helped spur the demand for its rivals and new entrants in the market, which Shiba Inu had benefited from lately. Over the past week alone, Shiba Inu had registered gains of over 1,500% before the crash on Wednesday.
Shiba Inu also turned more popular and enjoyed support from getting listed on leading crypto exchanges, including Okex and Binance recently. The growing interest for cryptocurrencies among investors – both institutional as well as retail, have helped drive a rally not just in the leaders of the pack but have also fueled the rise of smaller altcoins like SHIB.
Cryptocurrencies, especially the ones with smaller market capitalizations, are extremely volatile and susceptible to rapid changes based on movements made by whales – large investors who own thousands or millions of a particular digital asset. One such instance was Buterin's recent sell-off that put the market into a state of panic, causing the value of Shiba Inu to fall drastically.