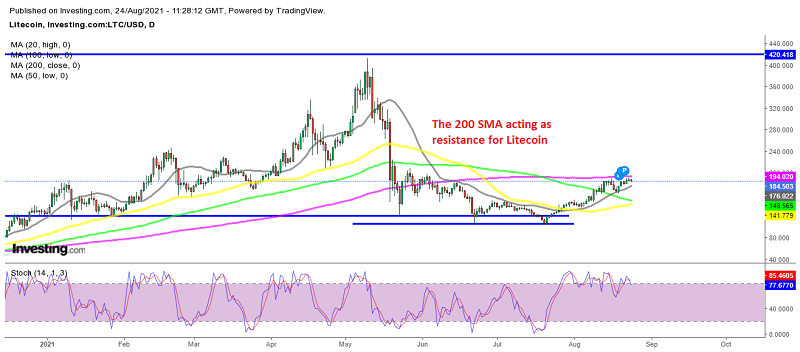 Breakout in Litecoin Soon as it Gets Squeezed Between MAs?
Litecoin has followed the rest of the crypto market in the last month, making some decent gains, but in reality, it hasn't really shown much bullish momentum. In fact, the price action in Litecoin was quite bearish over the past three months, as it lost around 75% of its value in that crash in May, and it made lower lows until late July.
Other main cryptos were making higher lows, suggesting that buyers were getting ready for a bullish reversal, but we didn't see this in Litecoin. The reversal came eventually, but it was more due to the improved sentiment in the crypto market, as mentioned, rather than due its own merits.
Even now, after the bullish reversal, Litecoin is not looking particularly strong. It is lagging behind most of the main cryptocurrencies, which have doubled in volume since late July. LITECOIN has yet to reach the $210 level, which would be double the value compared to the lows of $105 in July.
Litecoin has pushed above the other moving averages, but it is finding it hard to push above the 200 SMA (purple) on the daily chart. This moving average has been working as resistance to the top, scaring buyers away, and yesterday's candlestick closed as an upside-down pin, which is a bearish reversing signal. We're not seeing much of a reversal today, although there should be a breakout soon, considering that the range between the 200 SMA at the top and the 20 SMA (gray) at the bottom is getting really tight.
So, the situation is not looking particularly bullish for Litecoin. But, the metric that identifies the average time a token is held, currently comes at 1.6 years for Litecoin. What this suggests is that despite the weak buying pressure, the rally will remain stable in LTC/USD and the market won't witness any sudden selling. We will observe the price action in the following sessions, and we'll probably go long if the 200 SMA gets broken.