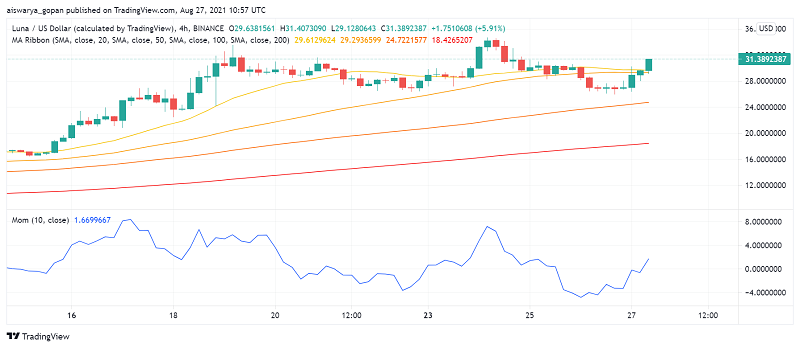 Terra's LUNA Rakes Up Double Digit Gains: What's Happening?
There seems to be no stopping Terra's LUNA from reaching and crossing new ATHs, making the most of the recent bullish mood in the crypto market, and continuing to strengthen even as other leading cryptos edge lower. At the time of writing, LUNA/USD is trading at around $31.40.
One of the biggest reasons supporting investors' upbeat mood towards LUNA is the addition of Terra's token to Alto CryptoIRA – a self-directed individual retirement account. The company offers crypto investors tax advantages traditionally experienced in individual retirement accounts (IRA), promising tax-free trading and withdrawals on supported cryptocurrencies over the platform.
Another promising development that has driven Terra's LUNA higher lately is the blockchain's integration with Wormhole – a bridge connecting its ecosystem to that of Ethereum, Binance Smart Chain and Solana. The Wormhole integration increases the attractiveness of the Terra blockchain among DeFi projects, supporting interoperability among leading blockchain networks and promising higher levels of scalability and efficiency via multi-chain operations.
Terra is a blockchain protocol developed by South Korea based Terraform Labs and its stablecoin LUNA has been attracting significant attention from investors, especially against the backdrop of the ongoing boom in DeFi and NFTs. Over the past month, it has overtaken other competitors such as Polygon's MATIC to become the 13th largest cryptocurrency by market capitalization and the third largest blockchain in terms of TVL, which stands at just under $6 billion till date.
The increased adoption and activity on the Terra network saw its developers burn $185 million worth of LUNA tokens over the past month – these tokens are burnt to ensure stability of TerraUSD as its demand rises among users. Meanwhile, we expect more of an uptrend in the coming weeks as Terra gets ready for its major network upgrade Columbus-5, which will not only enhance functionalities but also be followed by the launch of more projects on the blockchain, further raising the demand for and the value of LUNA.
Key Levels to Watch
Taking a look at the 4-hour chart of LUNA/USD, we find a strong bullish bias being signaled by the moving averages and the momentum indicator. However, the MACD signals some selling interest as well among investors at the moment.
Terra's LUNA is holding above the pivot point at $26.90 and it looks like buyers are preparing to test the immediate resistance at $34.62 soon. A break above this level can take the price above the key $40 mark until the second resistance at $41.23.