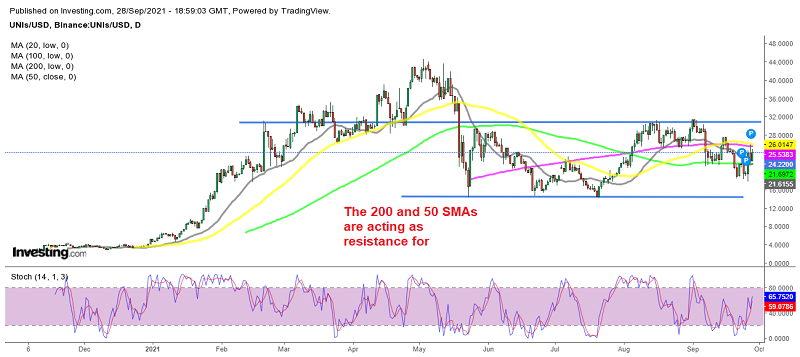 Uniswap Coin Price Prediction – MAs Stopping It From Surging, As It Attracts Chinese Crypto Traders
Posted Wednesday, September 29, 2021 by
Skerdian Meta
• 2 min read
The crackdown on cryptocurrencies continues and it has intensified. China banned Bitcoin mining initially, then passed a law to start banning crypto transactions, which has been weighing on the crypto market since May. But, some cryptos look stronger than others, enduring these harsh times with grace. Some are even benefiting from the crackdown in China, like Uniswap; so let's have a look at this cryptocurrency.
Uniswap Analysis – UNI/USD Benefits from China Crackdown on Cryptos
Uniswap is a crypto exchange, just like Binance, but also a network for DeFi contracts and applications, as well as a liquidity provider, as we explain broadly in our 2021 Uniswap forecast. The native coin UNI or UNIs surged early this year, surged early this year, from around $3 at the end of 2020 to $almost $45 in May. Moving averages were providing support, particularly the 20 SMA (gray) and the 50 SMA (yellow), showing the strong momentum in this crypto.
It benefited from the growing DeFi scene and the positive sentiment in the market, which pushed it higher, while also benefiting as an exchange from growing crypto transactions. Although, the crackdown on the crypto market has been weighing on Uniswap. It crashed together with the market the first time in May and it turned bearish again this month.
Uniswap H4 Chart – The 200 SMA Acting As Resistance
Although, it has shown resilience in the last several days while the market has been declining. The crackdown in China is actually helping the Uniswap exchange, as traders and investors transfer their crypto reserves to decentralized exchanges. The ban in China and other countries affects non-decentralized exchanges, while Uniswap and the like reap the benefits.
Minutes after the announcement from the People's Bank of China $450 million in crypto liquidations left China. So, this is keeping Uniswap in demand and we Expect a breakout and a surge to the upside for UNIs. The 50 SMA (yellow) and the 200 SMA (purple) are stopping UNI/USD from running higher, but it will break above soon and we are seriously thinking about opening a buy trade in this crypto.
Uniswap Coin Uni Live Chart