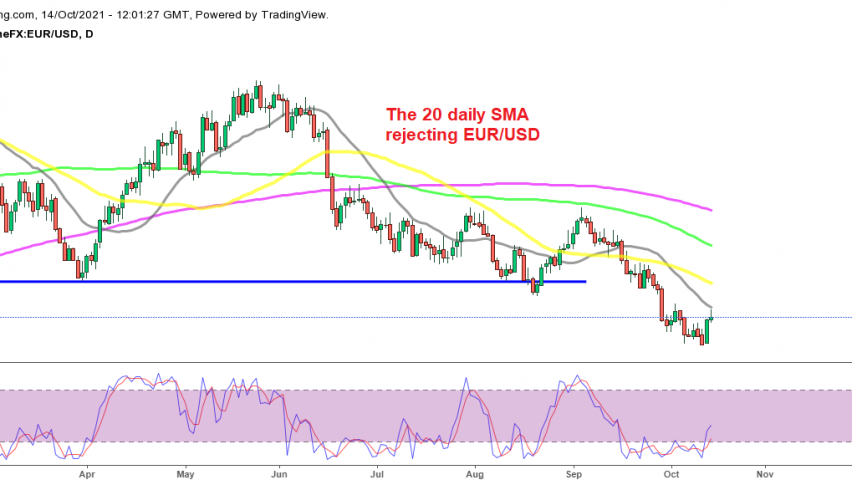 Selling the Retrace in EUR/USD, As the ECB Persists on Temporary Inflation
One of the things which have turned the Euro bearish in recent months is the fact that the European Central Bank continues to consider inflation as temporary. Headline CPI (consumer price index) inflation has increased above 3% in the EU, standing 1.4% above the ECB target, while core CPI has increased to 1.9%.
These are high levels for normal times, but the ECB persists that these are not normal times and that inflation is temporary and it will cool off eventually. The FED on the other hand has acknowledged high inflation, which stands at 5.4% in the US, so it is substantially higher than in Europe. This has forced the FED to start tightening the monetary policy, by slowing the QE purchases, while the ECB is not thinking about that at the moment
EUR/USD H4 Chart Analysis – The 100 SMA acting as resistance
EUR/USD is overbought on the H4 chart
So, there is a divergence in central bank policy, which has turned EUR/USD quite bearish since the beginning of summer. In the last two days, we have seen a pullback higher in this pair, but the price is finding resistance at the 20 SMA (gray) on the daily chart at the top of this article and at the 100 SMA (green) on the H4 chart just above.
Both these moving averages have acted as resistance before, so we decided to open a short-term sell signal to catch the immediate rejection of the price by the moving averages (MAs) and a long-term one, entering the longer-term bearish trend. Besides that, the ECB members just made some comments, still refusing to consider inflation as permanent. Below are their comments:
ECB president Christine Lagarde Comments
Inflation upswing is largely driven by temporary factors
Price pressures could become more persistent if supply bottlenecks last longer
Or if wages rise more than currently anticipated
But there is no evidence of significant second-round effects from wages
Sees risks surrounding euro area growth outlook as being broadly balanced
Is anyone else sick of all the transitory talk yet? The ECB is pretty much put between a rock and a hard place here as they can't acknowledge more sticky inflation as that would defeat their forward guidance but they also might be forced to do something if price pressures continue to surge higher going into next year.
EUR/USD Live Chart