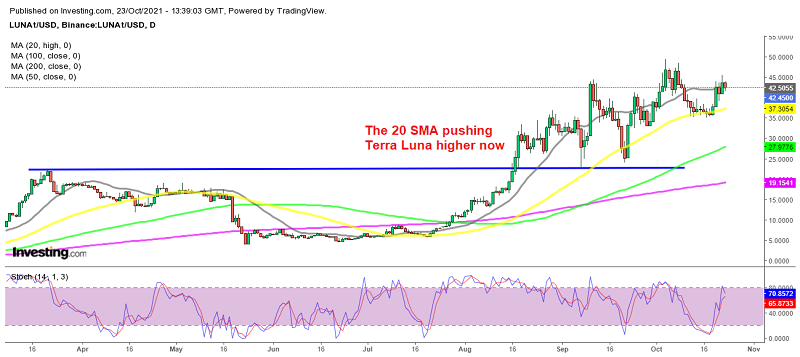 Terra LUNA Prepares for New Highs, Ripple XRP Plays Dead Again, Bullish Reversal Soon for HEX Coin
Terra Luna has shown strength since late July; it has been making gains continuously, despite the bearish period during September in the crypto market. At the end of July LUNA/USD was trading around $5, while earlier this month it touched $50, and judging by the price action, this crypto will probably make new record highs soon.
The previous high at $23.50 turned into support for Terra LUNA during the deep pullbacks in September, then the 50 SMA (yellow) caught up with the price and it seems like this moving average has turned into support for this crypto now. Terra Luna is about to burn about $10% of its token supply, which removes these coins from circulation thus helping increase the demand and the price for this crypto, so new highs above $50 are the next target now.
Ripple H4 Chart Price Analysis
XRP/USD trading sideways again
Ripple has turned into one of the most boring cryptocurrencies out there, with very slow price action. It was performing well until early September, but since the second crash in the market this year, Ripple hasn't recovered and it is missing the bullish run of October in the crypto market, while some crypto coins like LUNA keep making new highs.
The price started to increase again earlier this month and moving averages were turning into support, but in the last two weeks, XRP/USD has only been trading sideways, showing no signs of life and no will to take any direction. The legal battle with SEC (Securities and Exchange Commission) has surely been weighing in this crypto.
The case will probably go in Ripple's favour, with SEC being required to explain how the Howie test applies to Ripple, what the status of ETH and BTC is, as well as the sale of Ripple as investment contracts. But, that doesn't guarantee a rally either, so the future is not clear for Ripple.
HEX Coin Weekly Chart Price Analysis
HEX coin has had a great performance this year and it didn't even blink during the crash in the crypto market during May/June. Instead, it kept going and gained more than 5,000% in value, as it increased from around $0.010 in April to $0.53 by September.
The retrace might have ended at the 20 SMA for HEX token
The second bearish period in the crypto market eventually caught up with HEX/USD and it continues to retreat lower, although the retreat might have come to an end. The decline stopped at the 20 SMA (gray) on the weekly chart as shown above, while the previous high at $0.222 also helped provide support. Now, the weekly candlestick looks like a doji which is a bullish reversing signal after the retreat. Although, the week is not over so it might change.
HEX Trust announced its partnership with Hedera Hashgraph which will facilitate the expansion of the enterprise-level protocol by providing banks, financial institutions and other institutional investors a safe and secure way to integrate HTS-based tokens. Besides the retrace lower is complete, so it is likely that we might see a bullish reversal soon, so this is a good opportunity to buy HEX coins.