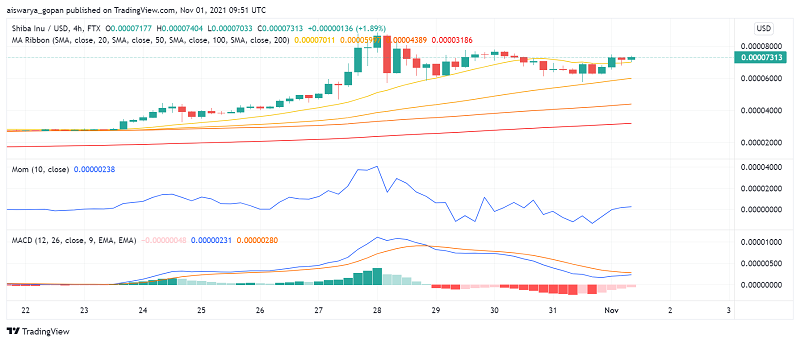 Can Strong Fundamentals Drive Shiba Inu (SHIB) Even Higher?
Shiba Inu (SHIB) may be facing a lot of flak from 'serious' crypto investors, but love it or hate it, you cannot deny that its rally remains ongoing despite its detractors' skepticism. At the time of writing, SHIB/USD is trading around $0.000073, up by almost 90% in the past week.
The buying frenzy in the second largest memecoin has seen it overtake the original joke crypto and its biggest rival, Dogecoin last week. While it has slipped lower in rankings since then, Shiba Inu remains within the top 10 largest cryptocurrencies by market cap, occupying the ninth position in the list while rival DOGE closes out the list in position 10.
One of the biggest drivers of the high levels of price action being seen lately is success stories of early adopters who bought a few thousands of dollars worth of SHIB and turned into millionaires when its value skyrocketed. The trading volume in SHIB soared so high last week that it caused a server outage on crypto exchange WazirX, an India-based Binance subsidiary.
Shiba Inu Enjoys Support From Latest Fundamental Developments
Shiba Inu certainly seems to be enjoying its time in the limelight and catching the attention of mainstream businesses as well. Leading US-based theater chain AMC, which had previously ignited interest in Dogecoin, may be considering introducing the SHIB token as an acceptable payment method. Last Friday, its CEO Adam Aron posted a poll on Twitter which will run for another two days, seeking the public's opinion on adding SHIB as an option, further driving up interest in the memecoin on the possibility of increased adoption.
In more encouraging news for SHIB holders and traders, Shiba Inu-based NFTs, The Shiboshis, ranked among the top 10 NFT projects based on sales volume over the past week. Garnering sales worth $9.7 million – a rise by over 125%, they came in at rank seven, overtaking other leaders in the NFT market such as NBA Top Shot, Doodles and Mutant Ape Yacht Club.
While Robinhood's users may still be waiting for the platform to list SHIB, the memecoin's latest rally has driven leading crypto exchange Okcoin to offer it as a listing. The addition of the meme token on the platform can help encourage more buying action in the Shiba Inu coin going forward.
SHIB's Rally Faces Criticism Too
However, like we said in the beginning of the article, not everyone seems to be a fan of SHIB and its recent stellar performance. In a recent interview with Bloomberg Technology, CEO at MicroStrategy, Michael Saylor, stated that he had no opinions about the comparison between Dogecoin and Shiba Inu, preferring to focus solely on Bitcoin.
Edward Snowden has also cautioned new investors from falling for the current memecoin rally, warning them against investing serious capital into such tokens. In a recent tweet, he criticized the buying frenzy around Shiba Inu, adding, "If you got talked into exchanging your hard-earned savings for some new dog money because a meme said you'd get rich, please carefully consider your odds of outsmarting a market that sold to you its stake in *not even dog money but a CLONE of dog money."
SHIB/USD Technical Analysis
Taking a look at the 4-hour chart of SHIB/USD, we find a strong bullish bias among moving averages and the momentum indicator. However, the MACD is flashing sell as well.
Shiba Inu's price is holding comfortably above the pivot point at $0.000063 and it looks like smooth sailing until the next resistance at $0.000092. However, a climb higher would require the market sentiment to remain strongly optimistic, so keep an eye on price action across the crypto board for clues.
Cryptocurrencies were showing strong bullish pressure in the first two months of 2023, but the bullish momentum has faded
2 weeks ago