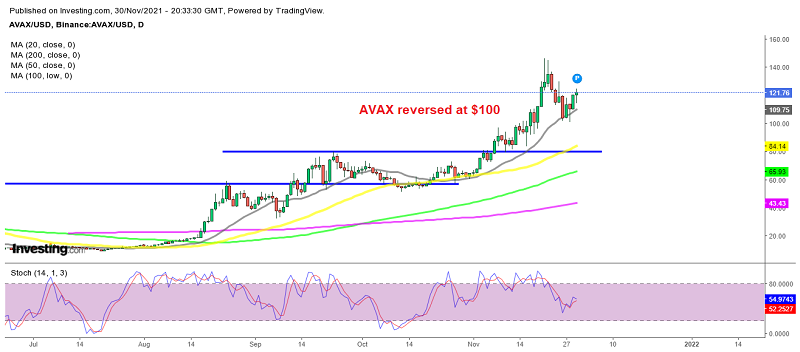 Avalanche Crypto (AVAX) and Ethereum Head for New Record Highs Before 2022
It seems like cryptocurrencies are closing the month of November on a positive footing, after a rough month. They endured some heavy losses as the crackdown on cryptos continues, but the market has got used to such news. It has brushed off news of the establishment trying to fight it off before, like after the decline we saw in May/June and again in September, when the cryptos simply shrugged it off, progressed higher and made higher highs.
Now, it seems like they are getting over the latest bearish leg and are turning bullish once again. Ethereum and Avalanche are at the forefront, and after the bullish reversal they seem to be heading for new highs, so let's see if they will make new record highs before the end of the year.
Avalanche Daily Chart Analysis – Reversing Upwards at the 20 SMA
Avalanche made quite a strong rally over the last few months. It kept growing until the beginning of last week, despite the crash in the crypto market, which took Bitcoin from close to $70,000, all the way down to $53,000. AVAX/USD kept growing until it reached $147, and it only suffered some minor losses last week, during the retreat.
But the retreat seems to be over now, after the 20 SMA (gray) provided support on the daily chart. The decline stopped right at $100, so Avalanche has completed the 50% Fibonacci retracment level, and it is now reversing upwards. The Avalanche blockchain is one of Ethereum's emerging rivals in the industry of smart contracts.
The partnership with Deloitte, which will see the consulting firm deploy Avalanche to support its work with the Federal Emergency Management Agency (FEMA), was one of the main reasons for the surge in the AVAX price. The Deloitte deal increases credibility for Avalanche, so buyers are resuming the momentum, and turning the trend bullish again. Judging by the price action, AVAX will probably make new highs in December, since it has already gained 20% in the last few days.
Ethereum bounces off $4,000
Ethereum has also had a great run since early August, increasing nearly 3,000% in value as it approached $5,000 earlier this month. The $4,000 level turned into resistance in September, but now it seems to have turned into support. This support zone has held on three occasions in the last two weeks and we decided to go long off the support, closing the trade at $4,700 yesterday, with a nice 15% return in about a week.
Now, ETH/USD is pretty close to this month's highs, so I think that Ethereum will also make new highs before 2022 and crack above the major level at $5,000. Ethereum has been suffering from high gas fees, but with the Ethereum 2.0 London hard fork, this issue will be dealt with.