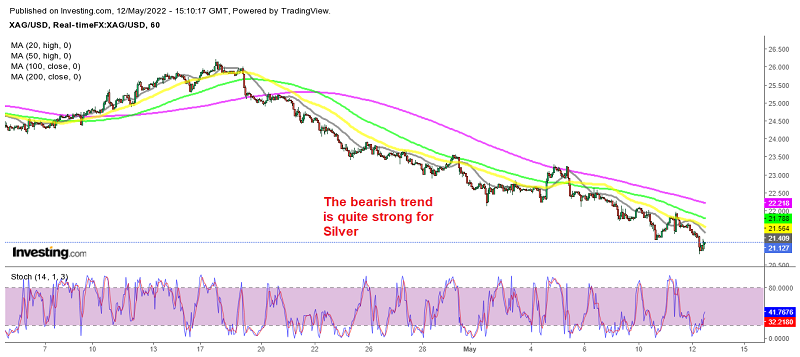 Selling Silver XAU As Precious Metals Continue to Be Bearish
Precious metals such as Gold and Silver are supposed to be bullish when the sentiment is negative and Gold did surge higher in early March, as the conflict in Ukraine escalated. Gold surged to $2070 which is just below the all-time high of $2075 from back in the summer of 2020. But, we saw a quick reversal and the second attempt to resume the uptrend last month ended at the $2,000 level, making lower highs, which is a bearish signal.
Since then Gold and Silver have been on a bearish trend that continues. Retraces higher have ended at moving averages on the H1 chart for Silver, which shows that the trend is pretty strong. We decided to open another sell signal in XAG/USD today, as the PPI inflation released a while ago showed another increase last month, suggesting that CPI inflation will also remain high in the coming months, since the jump in prices has been coming more from large suppliers.
April 2022 PPI Producer Pice Index Report
March PPI YoY report was 11.2% revised to 11.5% (was already an all-time high)
PPI MoM for April +0.5% vs +0.5% expected
March PPI MoM reading revised to +1.6% from +1.4%
Core PPI ex food and energy YoY 8.8% vs 8.9% expected
PPI ex food and energy MoM +0.6% versus +0.6% expected
PPI ex food, energy and trade YoY +6.9% vs +7.0% prior
These numbers are close to expectations but indicate no let-up in pipeline inflation pressures in April. That will spill over into CPI increases in May, June and July. What worries me is that producers and buyers are starting to get accustomed to having to accept and pass on price increases. That's the kind of thing that the FED wants to avoid.
US Initial Unemployment Claims
Initial

 jobless claims 

 203K vs. 195K estimate
Prior week 200K revised to 202K
4 week moving average of initial jobless claims 192.7 5K vs. 188.5 K last week (revised from 188.0 K)
continuing claims 1.343 million vs. 1.380 million estimate. Prior week 1.387 million revised up from 1.384 million previously reported. The continuing claims is the lowest since January 3, 1970
4 week moving average of continuing claims 1.385M vs. 1.418M. The 4 week moving average is the lowest since January 31 at 1970
The largest increases in initial claims for the week ending April 30 were in New York (+7,329), Illinois (+3,140), Kentucky (+1,152), Michigan (+1,092), and New Hampshire (+469),
The largest decreases were in Massachusetts (- 3,029), California (-2,816), New Jersey (-2,466), Connecticut (-2,319), and Ohio (-2,018).
The jobs data is that lagging indicator. It has been taking marginally higher from its lows but still at 200,000 is at very low levels.