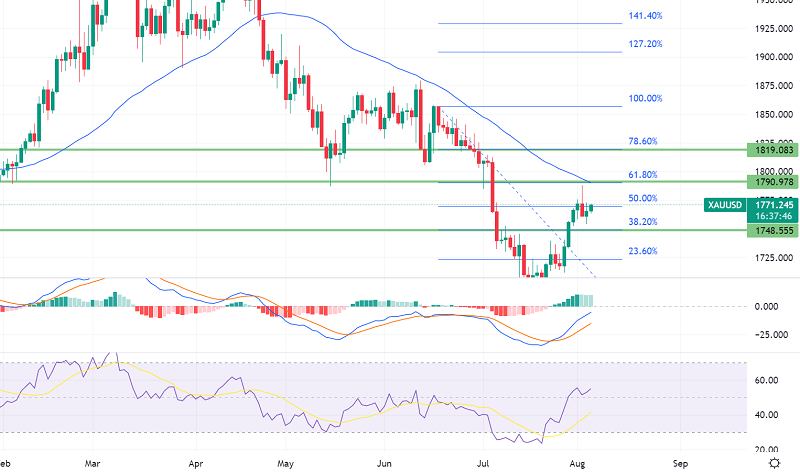 Gold on a Bullish Run amid Weaker Dollar – Eyes on US NFP
Despite the recent drop from the intraday high during Thursday's Asian session, the gold price shows minor gains of around $1,767. As a result, the yellow metal GOLD maintains the previous day's bounce from the weekly low, despite a weaker US dollar and market uncertainty ahead of Friday's release of the all-important US Nonfarm Payrolls (NFP).
The US Dollar Index (DXY) is now stuck around 106.35, despite hitting a new weekly high of 106.82 earlier in the day. However, contradictory US statistics and Fedspeak appeared to have recently impacted the US currency. The market's cautious optimism that China will overcome its economic woes might also be a challenge to the greenback, especially following the previous day's Caixin Services PMI for the dragon nation.
On Wednesday, the US ISM Services PMI for July increased to 56.7 from 55.3 the previous month and the market forecast of 53.5, while the final reading of the US S&P Global Services PMI for July fell to 47.3, the first decline in two years, from 52.7 in June and the flash estimate of 47. In other news, China's Caixin Services PMI for July shocked markets with positive results.
"(There is) still some distance to go to get to a restrictive monetary policy," said St. Louis Federal Reserve Bank President James Bullard. The policymaker says that he still wants to get to 3.75 to 4% this year, but he prefers the form of frontloading.
US NFP in Highlights Ahead
The American economy added 372K payrolls in June 2022, above market expectations of 268K and falling slightly short of a downwardly revised 384K in May. The figures were consistent with the previous three months average monthly growth of 383K, indicating a tight labor market.
Professional and business services (74K), namely management of companies and enterprises (12K), computer systems design and related services (10K), leisure and hospitality (67K), primarily food services and drinking places (41K), and health care (57K), including ambulatory health care services (28K), and hospitals, experienced significant job growth (21K). In addition, manufacturing employment climbed by 29K and has recovered to its February 2020 level.
Nonfarm employment is down by only 524K, or 0.3 percent, from its pre-pandemic level in February 2020, according to June estimates. Private sector employment has recovered from pandemic-related job losses and is 140K greater than in February 2020.
Gold Technical Outlook
Our optimistic outlook will be valid if the price remains above 1755.70, which is supported by stochastic and the EMA50 positivity. Our goals begin at 1779.25 and continue to 1802.80 after surpassing the previous level.
Today's trading range is likely between 1755.00 support and 1790.00 resistance.
Today's projected trend: bullish
Yesterday the FED delivered a hawkish pause with the DOT Plot pointing to more rate hikes, today the SNB and the BOE should hike by 25 bps
2 days ago