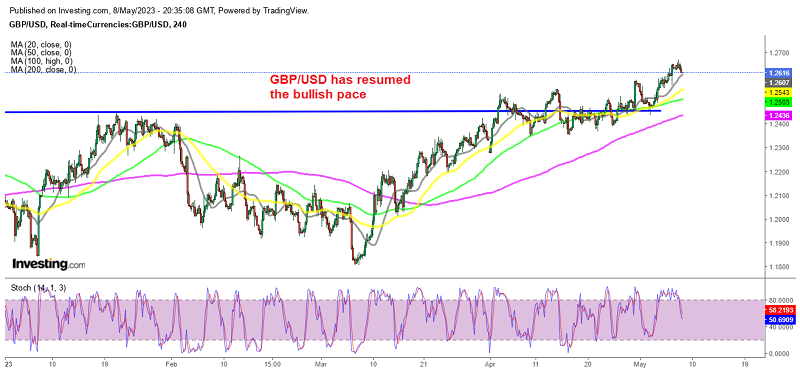 GBP/USD Keeps Bullish Momentum Ahead of the BOE Rate Hike
GBP/USD has been on a bullish trend since March when it made a reversal above 1.18 and has gained nearly 9 cents since then. During March, the trend was quite strong, with smaller moving averages acting as support, while in April the trend slowed down. Last week, the bullish momentum picked up again and this pair started to surge higher again as the USD turned weaker after the FED delivered the last rate hike.
The GBP is currently experiencing benefits due to perceived differences in monetary policies between the UK and the US. Most traders believe that interest rates in the US may have reached their peak, while in the UK, persistently high inflation and strong economic data suggest that the Bank of England (BoE) may contniue with rate hikes further, although they are not really working in stopping prices increase.
This divergence in the monetary policy between the FED and the BOE has caught the attention of traders who are constantly seeking opportunities to invest where they can earn the highest returns. As a result, this situation is favoring the British Pound (GBP).
From a technical standpoint, the GBP/USD currency pair is consistently reaching new highs within a generally bullish long-term uptrend. yesterday we saw a slight retreat in this pair as we head into the BOE rate decision on Thursday, with the US CPI consumer inflation report to be released tomorrow. But, the 20 SMA (gray) held as support on the H4 chart.
The Bank of England is expected to resume the policy tightening again and deliver a 25 basis point rate hike this week, which would take rates to 4.50%. On Friday the March GDP report will also be released from the UK, and it is expected to show another stagnation coming at 0.0%. Although, the BOE policy will be the most important factor for this pair this week probably.