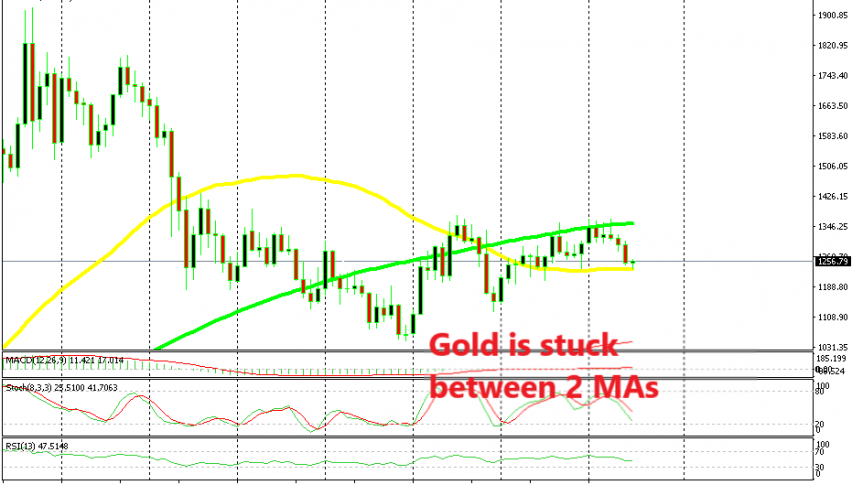 A Look at the Monthly Chart on Gold
My colleague Arslan highlighted the bullish reversal in Gold (XAU). Gold has been trading on a bearish trend for quite some time. It failed to break above the 100 SMA (green) at the beginning of the year despite trying several times. After that, the trend shifted to bearish.
To me, the bearish move of the last several months has been mainly technical because the market sentiment has deteriorated. That should have sent Gold surging as the ultimate safe-haven. The other safe-havens such as the CHF and the JPY have received some solid bids during this time. Yet, Gold continued to slide and it lost around $130 on that move.
But, as Arslan said in an earlier article today, Gold made a bullish reversal yesterday as the date for the beginning of the trade war approaches. The reason I'm saying this is because yesterday's daily candlestick formed a bullish engulfing pattern. The bullish engulfing pattern is formed when the daily candlestick is bullish and is bigger than the previous bearish one.
This chart pattern points up
Besides, Gold has found solid support at the 50 SMA (yellow). I highlighted this moving average last week as Gold was sliding towards it. It held its ground well and now Gold is bouncing off it.
Stochastic is almost oversold as well, so this latest move makes perfect sense, both fundamentally and technically. If you switch to the weekly chart, you can see that the 200 SMA stands at the same levels as the 50 SMA on the monthly chart, so the support is pretty strong. As I have often said and as you can see, the fundamentals fall in line with the technicals more often than you'd think. This is one of those cases.
Yesterday the FED delivered a hawkish pause with the DOT Plot pointing to more rate hikes, today the SNB and the BOE should hike by 25 bps
3 days ago