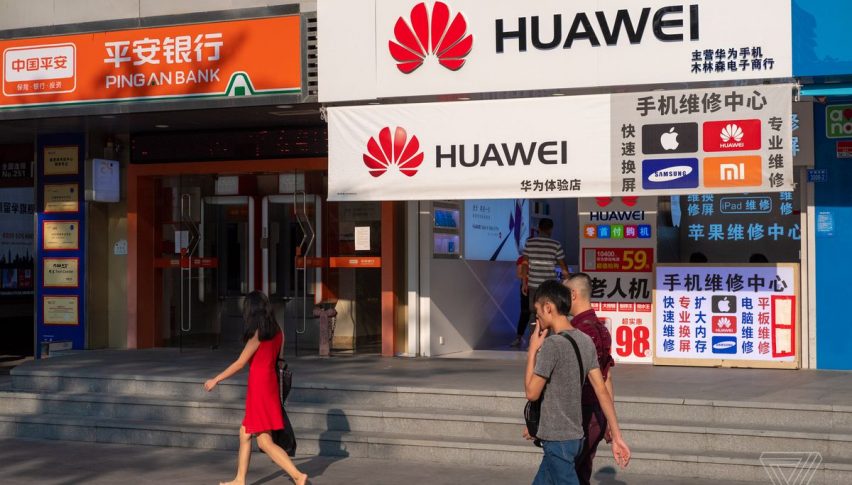 US Session Forex Brief, May 20 – Stock Markets Turn Bearish Again as Sentiment Turns Negative
In the last two weeks, the sentiment has turned pretty bearish in financial markets after the trade war between US and China, which was coming to an end as both sides were heading towards a trade agreement, escalated once again. As we know, China pulled back from promises to tackle IP theft and forced technology transfers which forced Donald Trump to elevate tariffs on Chinese goods and China responded back with retaliation. But towards the end of last week, the sentiment improved in financial markets and stock markets reversed higher together with USD/JPY, while GOLD reversed lower.
But today the sentiment has turned negative again, which we can see from the bearish price action in stock markets. In the early hours of the morning, Commodity Dollars were on a small bullish run which could have come from the jump in the Japanese GDP which increased by 0.5% in Q1 of this year as this morning's report showed, against a 0.1% decline expected. But that didn't last long and the sentiment turned negative again, especially in the European session and stock markets have been pretty bearish during this time. China is going to suspend doing business with suppliers which stopped supplying to Huawei, which means that the Chinese are holding their position. This will only escalate trade tensions further, so markets are anticipating it, hence the negative sentiment today.
European Session
German PPI – The producer price index has been negative in Germany during three out of the last five months. Although, it was expected to turn positive for April and today's report was expected to show a 0.4% increase in PPI for that month. The producer inflation turned positive indeed and it beat expectations, coming at 0.5%.
Eurozone Trade balance – The trade balance has been pretty volatile in recent months in the Eurozone, with the surplus growing to 37.1 billion Euros in January, but fell back to 26.8 billion in February which was revised higher to 27.9 billion today. The report released today is for March and the trade balance was expected to 24.2 billion Euros. It did shrink, but it came above expectations at 24.7 billion Euros.
China and Huawei – As we know, the US is attacking Huawei for stealing intellectual property, technology and what not. China's foreign ministry said today that they will be on a wait and see mode for counter measures on this case. Although we heard rumours on social media later that China is to suspend business with suppliers who agreed to halt supplying to Huawei.
German Economy is Still Weak for the Bundesbank – This was the headline comment on Bundesbank's monthly report. It continued, the economic rebound is largely due to one-off factors, the underlying trend remains weak, the effects are expected to lapse or even reverse. The downturn forces continue to be prevalent and may intensify somewhat, and the business environment for automakers could prove to be more challenging in the future. Yeah, especially if Trump imposes tariffs on European auto makers.
Trump and Juncker to Meet in the G20 Summit – These comments were made by the European Commission spokesman, Margaritis Schinas, who said that the head of the European Commission Juncker and Trump will meet at G20 summit to discuss trade. He also said that additional tariffs between EU and US can be avoided.
No Date Yet for Presenting Brexit – This comment was made earlier by the UK PM spokesperson. He added that the government can offer nothing on details or when the bill will be published, but urges lawmakers to be in favour of the bill. The cabinet is to discuss possible indicative votes on Brexit and merits of indicative votes are to be considered by Cabinet tomorrow.
US Session
US Chicago Fed National Activity Index (Apr) – The Chicago Fed National Activity Index which is a monthly index designed to gauge overall economic activity and related inflationary pressure came at -0.33 points for March. Today's report was expected to show this index turn negative and fall to -0.33 points, but it missed expectations, coming at -0.45 points, so it seems that the trade war is having an impact on the business sentiment.
FED Speakers – The economic data is light today, especially in the US session but there are a number of FED speakers on schedule as listed below:
Philly Fed Pres. Harker at 9:30 AM ET/1330 GMT
Vice Chair Clarida and NY Pres. Williams at 1:05 PM/1705 GMT
Fed Chair Powell speaks at 7 PM ET/2300 GMT. The topic is "Assessing Risks to our Financial System" at the Financial Markets Conference, in Florida.
The main trend remains bearish
The downtrend has picked up pace
The pullback higher is complete
Fundamentals are bearish

Stochastic is overbought and turning down now
AUD/USD has been pretty bearish in the last several weeks and it continues to be bearish as the sentiment deteriorates ober China-US trade war escalation. The market is expecting the Reserve bank of Australia to cut interest rates after the central bank of New Zealand did so two weeks ago. But we saw a bullish pull last night and a bullish retrace higher, which is now complete as stochastic shows. This pair is overbought on the H4 chart now and it is reversing down, so we are thinking of going short on it soon.
In Conclusion
The trade war seems to be getting worse as none of the involved parties are backing down. In fact, they are pushing their positions as China is threatening to support Huawei. That tells you that Huawei might not actually be a proper private company. The economic calendar is pretty light, but there are a few FED speakers. Although, I don't expect much action from them.