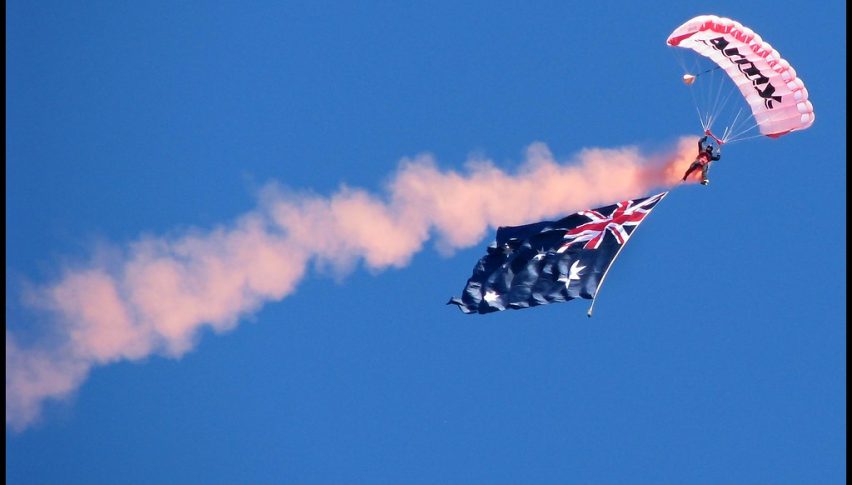 Forex Signals US Session Brief, July 2 – The RBA Cuts Rates for the 2nd Time After Cutting Them Last Month
The global economy has weakened considerably in the recent months, which has turned all major central banks pretty dovish. The Reserve Bank of Australia RBA was expected to cut interest rates in May as the escalation of the trade war between China and the US hurt the Australian economy in particular. But, they didn't act in that meeting and instead, cut rates from 1.50% to1.25% last month. The Reserve Bank of New Zealand cut rates before them, but the Kiwi turned even more stable since the RBNZ didn't leave the door open like the RBA did.
That was what sent the Aussie lower and has kept it bearish, compared to other risk currencies such as the Kiwi, the CAD and even the Euro. Today, the RBA cut interest rates again to 1.00%, but the Aussie didn't decline. Instead, it has been sort of bullish during the European session. The reason for that is that the RBA showed us that they will pause for a while. Here's how the two statements compare:
June:
The Board will continue to monitor developments in the labour market closely and adjust monetary policy to support sustainable growth in the economy and the achievement of the inflation target over time.
July:
The Board will continue to monitor developments in the labour market closely and adjust monetary policy if needed to support sustainable growth in the economy and the achievement of the inflation target over time.
Basically, the statements are the same, besides the part where they say "if needed", which is not a sure thing, unlike this rate cut which we knew was coming. OPEC has also officially decided to extend the production cuts, as Russia and Saudi Arabia confirmed today, yet Crude Oil is not climbing higher.
The European Session
German Retail Sales – Retail sales turned negative at the end of last year as the Eurozone economy kept weakening. They turned positive for a couple of months at the beginning of this year but turned negative again in March and in April, retail sales declined by 2.0% as last month's report showed. Although, that was revised higher to 1.0% today. For May, retail sales were expected to increase by 0.5%, but today's report showed yet another decline of 0.6%, so the German economy continues to slow down.
UK Construction PMI – Construction has been one of the best performing sectors in the UK but this sector fell into contraction at the beginning of this year. There was a short lived improvement in April, but in May it fell deeper in contraction as the PMI indicator fell to 48.1 points. In June, construction activity was expected to improve with the PMI indicator expected at 49.5 points, but the report released this morning showed a big decline to 43.1 points, which means really big contraction for this sector.
Chinas PM Li Speaking – China's premier, Li Keqiang, was commenting earlier that the economy has faced downward pressure from slowing global conditions. This has weighed on small and private firms. China will aim to lower borrowing costs by 1% for small and private firms and will fine tune monetary policy while being prudent. Money supply is reasonably sufficient
The Oil Cut Extension is official – OPEC has been wanting to extend Oil production quotas for quite some time now. Reuters reported this morning that Russia has agreed to extend the quotas for an additional 9 months, which we already knew and Saudis confirmed that too, so the extension is as good as official now. Saudi Oil minister, Khalid Al-Falih, also commented that OPEC has agreed on draft cooperation charter with OPEC+. 9-month extension is to prevent 100 mil barrels build-up. All countries have promised to improve on compliance to cuts. OPEC+ still working on which inventory metric to be used in the charter.
Eurozone PPI – The producer price index (PPI) turned negative at the end of last year as Crude Oil prices were falling, which translated into weaker CPI inflation as we have seen in recent months. It turned positive briefly in the first two months as Crude Oil and the global economy improved a bit during that time. But, in the last two months we have seen some negative numbers again and today PPI declined again by 0.1% against expectations of a 0.1% increase. This is going to weigh further on CPI inflation and the ECB should be taking notes.
The US Session
Canadian Manufacturing PMI – The manufacturing PMI has been weakening since it peaked somewhere around the 57 points level. In April, this sector finally fell into contraction below the 50 point level which means contraction and it has remained there since then. Today this indicator ticked higher to 49.2 points from 49.1 previously, but that still means contraction. The output declined to 47.7 points against 48.6 prior which is the lowest since December 2015 while new orders improved a bi to 48.9 points against 47.8 previously.
No Second Brexit Referendum, Says May – British PM Theresa May said at the parliament early that they are still working on a deal by October but the country should be prepared for a no-deal scenario. The same old words.
White House Navarro Sounding Optimistic on China Issue – Navarro was speaking on the CNBC, saying that we're headed in a very good direction on China. Previous talks are the basis of current negotiations, it will take time to get it right. The Fed lowering rates would help the stock market
BOE Chairman Mark Carney Speaking – Carney was speaking a while ago in Bournemouth. He said that Global trade tensions increase downside risks. Global trade war and a no-deal Brexit remain growing possibilities, not certainties. In some jurisdictions, the impact of uncertainty may warrant near-term policy response as insurance to maintain the expansion. Tight labour market, inflation at target, prospect of greater clarity on Brexit argue for policy focused on medium-term inflation dynamics. If Brexit progresses smoothly, limited and gradual interest rate rises would be needed. Market places significant weight on possibility of no-deal Brexit. The smooth Brexit assumption of MPC is increasingly inconsistent with market projections Inconsistencies do not mean market is wrong but highlight the extent that interest rates and sterling might rise to if Brexit deal reached. MPC will make a detailed assessment in August of potential implications of global sea change currently underway.
Trades in Sight
The trend has turned bullish after G20
The previous resistance MAs will likely turn into support
The USD has turned bullish this week
The 100 SMA is supposed to turn into support mow
USD/JPY has been pretty bearish in the last two months as the global economy weakened further and the trade tensions between US and China precipitated. As a result, the sentiment turned pretty negative in financial markets which increased the demand for safe havens. This pair lost around 500 pips during that period, but it seems to be turning bullish now after the positive comments in the G20 summit, which have improved the sentiment in financial markets. In the last several hours we have been seeing a retrace lower, but the 100 SMA (green) which provided resistance before, will likely turn into support now.
In Conclusion
Yesterday we saw a big bullish move in the USD and a bearish move in safe haven assets after the positive tones in the G20 summit. Today though, markets have been pretty quiet, which show that yesterday's momentum is not spilling into today. After all, the global economy is still slowing down so the effects of a possible trade deal between US and China will take some time to materialize in forex.