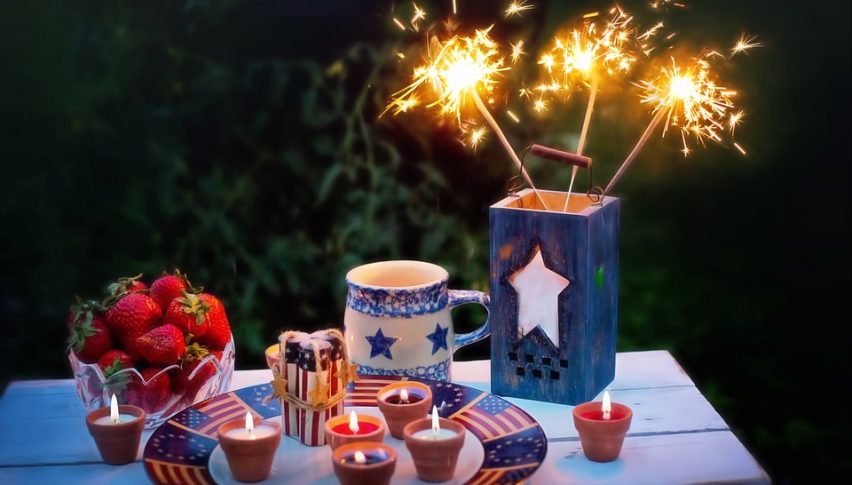 Forex Signals US Session Brief, July 4 – Quiet Markets for Independence Day
The markets today have been pretty quiet and one of the main reasons is the Independence Day in the US. The US markets are closed, but it seems like markets across the globe have taken today off as well because the price action across financial markets has been rally slow. At least, there was some action in European bonds as the 10 year bunds declined below the ECB deposit facility rate of -0.40%. Gold has also been quiet today after the volatility we have seen in recent weeks. Gold has been very bullish during June, then turned bearish for a week ahead of the G20 summit and this week it turned bullish again.
Today though, Gold has been trading in a tight range, deciding on the direction and waiting for the next move. Forex majors are also waiting for the next move because they turned bullish against the USD in recent weeks, but retraced down on Monday after the G20 summit. Now, they seem uncertain what direction to take. There were some positive comments from China today, saying that they won't devaluate the Yuan which should have improved the positive sentiment in forex, especially for the Aussie, considering that Australia passed the bill to cut taxes by $158 billion AUD. But, AUD/USD hasn't moved much either today.
The European Session
Eurozone Retail Sales – Retail sales turned negative at the end of last year as the Eurozone economy kept weakening. They turned positive for a couple of months at the beginning of this year but fell flat in March and in April retail sales declined by 0.4% as last month's report showed. Although, that was revised higher to -0.1% today. For May, retail sales were expected to increase by 0.4%, but today's report showed yet another decline of 0.3%, so the Eurozone economy continues to slow down.
Positive Comments From China – The Chinese commerce ministry was commenting on trade this morning saying that that trade teams from both US and China are in touch. They will release more information on talks when they have them and they will release 'unreliable entity' list in due time. Existing tariffs will have to be removed to reach a trade deal. China also hopes US will implement Trump's promise on Huawei and the US must address China's core interests to achieve a trade deal.
Negative Comments From the ECB – The ECB vice president, Luis de Guindos commented earlier saying that risks to economic growth are tilted to the downside. Euro area economic recovery faces renewed global headwinds that are weighing on the economic outlook. Earlier on, the ECB chief economist, Philip Lane, was speaking in Frankfurt, saying that European productivity has been lacklustre for more than two decades.
The US Session
ECBs Rehn Wants More Stimulus – Olly Rehn from the ECB also commented a while ago. His main comment was that further monetary policy stimulus is now needed. Stimulus is now needed until there is an improvement in economic and inflation prospects. Low inflation expectations are a 'great concern'; market based expectations are 'far too low'. The Eurozone is experiencing a longer phase of weaker growth, slowdown no longer temporary. ECB should prepare for stronger and prolonged slowdown, says better to prepare for the worst. They can change forward guidance, cut rates or resume QE if needed. When asked about cutting the main refi rate, he replied that rate cut thinking involves deposit rate. There is a certain degree of flexibility with regard to QE limits
HasWeidmann Given Up on Mario Draghis Post? – Bundesbank said that Weidmann will not be applying for jobs elsewhere. A Bundesbank spokesman commented a while ago saying that Weidmann is very happy in his role. He was a candidate to lead the ECB.
Trades in Sight
The trend has turned bullish after G20
Moving averages are providing support
The pullback is complete
The 20 SMA is providing support mow
Commodity Dollars have been really bullish in June and they have turned bullish again this week after a pullback last week ahead of the G20 summit. The summit was positive which improved the sentiment in financial markets and for risk assets such as stock markets and commodity Dollars. Today we saw a pullback in the European session, but the pullback is complete now and the price is bouncing off the 20 SMA (grey). The tax cuts legislation that Australia passed today should also be bullish for the Aussie
In Conclusion
The markets have been really quiet today and I expect them to die off quietly as we head towards the end of the European session. US traders will likely take a long weekend off this week, so I expect the price action to be quiet tomorrow as well, especially in the US session.