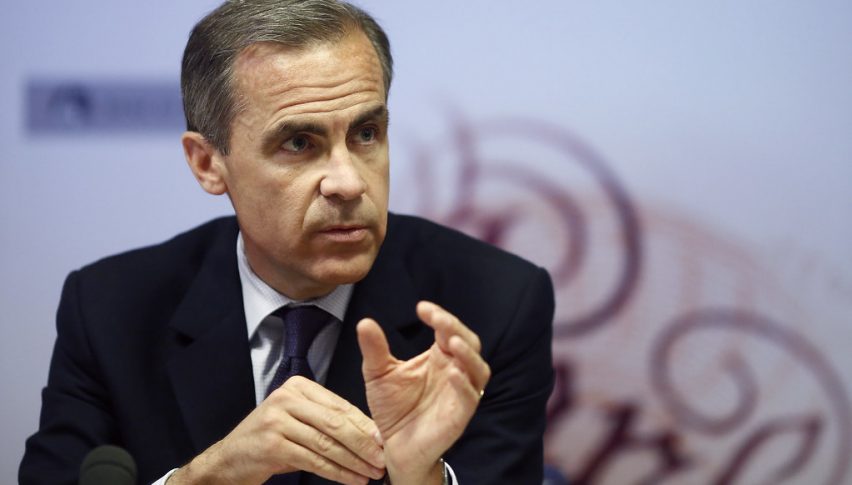 Forex Signals US Session Brief, August 1 – USD Turns More Bullish After the FED, While the BOE Keeps Denying the Obvious
The July FED meeting is finally over. It took place in the last day of the month and the USD benefited from it, closing July on a bullish footing. Markets were fully pricing in a 0.25% rate cut this time, but considering that the global economy has slowed down considerably in Q2 with manufacturing in contraction in many major countries as well as the recent weakness that we have seen from the US economy, there was a possibility that the FED might cut rates by 50 bps yesterday. The other option would be leaving the door open for more rate cuts in the coming months. But, the FED just cut rates by 25 bps and despite Powell suggesting that this is not a one-and-done action, markets took that as a sign that this was it for the FED. As a result, the USD rallied higher and it continues to grind higher today.
Today it was the Bank of England's (BOE) turn to do their thing and they kept interest rates unchanged at 0.75% as expected. There was a possibility that the BOE would deliver a surprise rate cut today, but they remained on hold. Another more likely option was for the BOE to sound extremely dovish now that it became obvious that the new PM BoJo is not going to bring anything new to the negotiation table and announce a date for more monetary easing in the coming months, since BoJo has decided to play the chicken game with the EU. He is threatening to leave the EU without a deal on October 31 if the EU doesn't offer anything either, so it becomes increasingly obvious that the UK will end up with no Brexit deal. But, the BOE decided to deny the reality once again and remain on a wait-and-see mode. As a result, GBP/USD is a tad higher, but the BOE will be forced to accept reality soon, probably in the next meeting which would send the GBP lower.
The European Session
Eurozone Manufacturing PMI – Manufacturing has fallen in recession in the Eurozone, being below the 50 PMI level for several months now. In France, manufacturing returned to growth in May, but in June it fell into stagnation at 50.0 points at today it slipped lower, contracting again. Italian and Spanish manufacturing also remain in contraction, while the recession in German manufacturing is still very severe at 43.2 points, despite a tick higher today. In the Eurozone as a whole, manufacturing also ticked higher for July, but at 46.5 points, it too is in great difficulty.
UK Manufacturing PMI – The manufacturing report was the last important piece of data before the BOE meeting today.Manufacturing was holding well in UK during Q1, but it fell in contraction in May and in June the contraction deepened further as the PMI indicator fell to 48 points. Today, manufacturing was expected to slip lower to 47.6 points, but it remained unchanged at 48.0 points.
Important for the Chinese that US an China Meet Face to Face – Senior Chinese diplomat Wang Yi commented early this morning that it is important for US and China to meet face-to-face. He has discussed how to promote stable relationship with US's Pompeo, who made it clear that the US does not aim to contain China's development. China is willing to create favourable conditions to help restart US-North Korea talks.
BOE Interest Rates and Statement – Bank of England leaves interest rates unchanged at 0.75% as expected. Official bank rate votes come at 0-0-9 in favour of keeping rates unchanged as expected. Detailed projections from the BOE do not include a no-deal Brexit possibility. Yes, continuing to deny the obvious reality hence the decision to keep things unchanged today. The BOE continues to assume a smooth Brexit scenario. In such an outcome, it would mean gradual rate hikes. Keep on dreaming… Gradual and limited tightening remains appropriate. Monetary policy response to whatever form Brexit takes will not be automatic. Interest rates could go in either direction, weaker short-term growth outlook reflects more entrenched Brexit uncertainty. Labour market no longer appears to be tightening but pay growth is stabilizing. At least they can see that the labour market is cooling off too. BOE estimates GDP growth of 0.0% in Q2 2019 and 0.3% QoQ in Q3 2019. 2019 GDP of +1.3% (previously +1.5%), 2020 GDP of +1.3% (previously +1.6%), 2021 GDP of +2.3% (previously +2.1%). Inflation seen at 1.90% in one year's time (previously 1.72%), at 2.23% in two years' time (previously 2.05%) and at 2.37% in three years' time (previously 2.16%).
The US Session
Carney's Press Conference – The BOE Governor Mark Carney started his press conference a while ago. Opening statement "Global trade tensions have intensified". Perceived chance of a no-deal Brexit has risen. The response to Brexit could be in either direction. Impact of trade tensions is larger than anticipated, while underlying UK growth is now below potential. BOE sees UK investment falling further in Q3. Carney states in the Q&A session that the new UK prime minister has been absolutely clear that the policy is to get a Brexit deal. There is a possibility of a no-deal outcome. We have been preparing financial markets for such a possibility. Carney continued that the current stance is that the UK is looking for a deal, but we cannot say that rates can go in any one direction in the event of a deal or no-deal.
Canadian Manufacturing PMI – As in the rest of the globe, manufacturing weakened in Q1 in Canada and in April this sector fell in contraction. The contraction deepened further in May, with the PMI indicator falling to 49.1 points. It ticked higher in June to 49.2 points, but it still remains in contraction. Let's see today if manufacturing will remain unchanged like in Europe.
US Manufacturing PMI – The first reading of the US manufacturing PMI for July which was released a couple of weeks ago showed that this sector fell into stagnation at 50.0 points where it is supposed to stay today as well. The ISM manufacturing PMI has also been declining, but we saw a slight improvement in June to 51.7 points and it is expected to improve further today to 52.0 points, which would take this sector away from contraction.
US Construction Spending – We have seen some volatile numbers from construction spending in the US. In March, spending came at -0.9%, but it was revised higher to 0.1% later. Manufacturing came in flat for April, but it was revised higher as well to 0.4%. The report released last month showed a decline of 0.8% which hasn't been revised, but we expect to see a 0.5% increase for June today.
Trades in Sight
The trend is bullish
The previous resistance as turned into support
The pullback down is complete
The stochastic indicator is now oversold on the H4 chart
EUR/GBP has been quite bullish for a few months now. The 20 SMA (grey) was pushing the price higher in the first half of the uptrend, then the 50 SMA (yellow) and the 100 SMA (green) caught up with the price and they turned into support for this pair, pushing it higher. Last week we saw a deeper pullback lower, but the buyers returned by the end of the week and the price surged around 300 pips higher. They broke the previous resistance at 0.91 from early last year and it seems like this level has turned into support now. Stochastic is already oversold, which means that the retrace lower is now complete at this level, so we are bullish on this pair.
In Conclusion
The USD moved higher yesterday after the FED disappointed markets in regards to further rate cuts and it is grinding higher again today, although there's not much momentum. The Bank of England kept the same view as in June, but they are refusing to see the reality, which is that the UK will leave the EU with no deal at the end of October. I suppose they will be forced to accept that in next month's meeting.