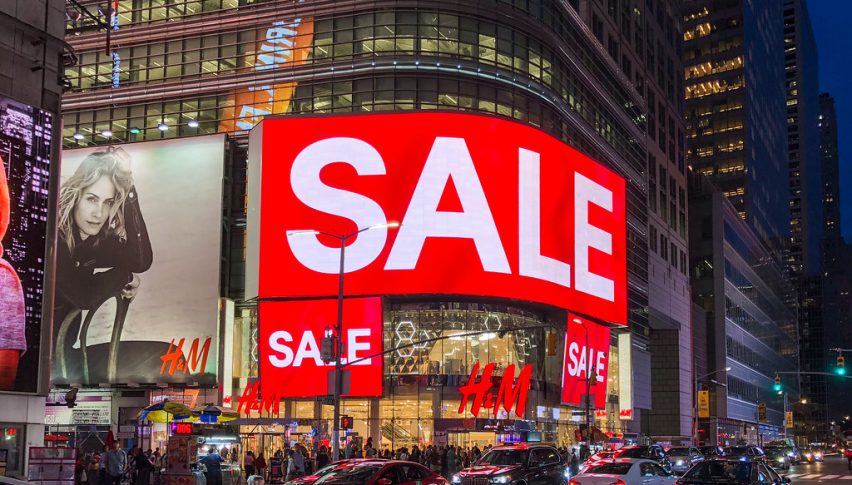 Forex Signals US Session Brief, August 15 – Retail Sales Day
Today is a retail sales day, with reports coming out of the UK this morning and later on from the US. Although, the economic calendar started with the Australian jobs report early in the Asian session. The unemployment rate for July remained unchanged at 5.2% but the employment change figures came much better than expected at 41.1k, against 14.2k anticipated. That sent the Aussie higher, although it has pulled back lower now.
The UK retail sales report was released this morning in the European session. In the report released last month, expectations were for a 0.3% decline in retail sales in June, but it came out positive at 1.0%, which was revised a tick lower today to 0.9%. Today's report was expected to show another decline of 0.3%, but the numbers for July came out positive again, showing a 0.2% growth, which is not much but closes the economic week on a positive footing for Britain, after the impressive inflation and earnings figures we saw in the last few days.
The retail sales report from the US was just released. Retail sales have been steady in the US in the last two months, showing a 0.4%-0.5% growth for both headline and core sales. Today's report which was for July showed a bigger jump of 0.7% in the headline sales, but core sales offered the biggest surprise when they posted a 1.0% jump for last month.
Another thing to keep an eye on today are the US and UK bond yields. Yesterday the yield curve inverted and fell 1bps, meaning that interest for 10 year bonds/treasuries is 0.01% lower than the 2 year bonds/treasuries. 30-year yields are holding at a record low below 2% and down by another 5 bps today, which might spill into forex and commodities markets, so we should keep an eye on the yield curve.
The European Session
Ireland's Donohoe Speaking on the Irish Backstop – Irish finance minister Paschal Donohoe said this morning that the possibility of a no-deal Brexit is clearly growing. The Irish economy is well capable of responding to the risk of a no-deal Brexit. He added that if a backstop alternative could have been found in the last two years, it would have.
Swiss PPI – The producer price inflation turned negative in June in Switzerland as last month's report showed. PPI had been flat for the previous two months but in June it declined by 0.5%. Today's report was expected to remain on the negative side again and show a 0.2% decline, but the actual number beat expectations and came at -0.1% which is still negative.
UK Retail Sales – The retail sales report was just released and it is another positive one. Sales were expected to be negative, but just like last month, they beat expectations showing a 0.2% growth MoM. Previous figure was revised to 0.9% from 1.0%. Core retail sales excluding autos and fuel also came positive at 0.2% MoM against -0.2% expected. Prior core sales stood at 0.9% but was revised to +0.8%. Retail sales YoY came at 3.3% against 2.5% expected, down from 3.8% previously. Core retail sales YoY excluding autos and fuel also beat expectations, showing a 2.9% growth against 2.3% expected, but down 3.6% previously. Surveying firm ONS says that department store sales increased for the first time this year with online spending being a key driver to the upside in the report. Online sales jumped by 6.9% on the month, driven by promotions and that is the biggest rise in volume terms since May 2016. But, overall consumption activity is more modest with retail sales having increased only by 0.5% in the three months to July, which is the weakest growth seen so far this year.
China Sounding Bitter Today – Chinese officials said earlier that China maintains the stance that they will have to take countermeasures against US tariffs. US is violating the Xi-Trump consensus with latest tariffs decision and US actions deviate from the right way to resolve the trade dispute. China's ambassador to the UK also commented on the Hong Kong issue, saying that we can quell any HK unrest swiftly. We will not let protesters drag HK down a "dangerous abyss", HK protesters' moves show signs of terrorism. China is showing its face now in relation to Hong Kong. Independent Hong Kong, right?
The US Session
US Retail Sales – Retail sales used to be volatile in Q1 but they stabilized in Q2, with both core and headline sales increasing by 0.4%-0.5% in May and June. The retail sales report for July is out and it is showing a 0.7% increase in sales beating expectations of 0.3%. Core sales came even better, posting a 1.0% jump in July. Retail sales excluding autos and gas also beat expectations coming at 0.9% against 0.7% expected, up from 0.5% in June. Through the 7 months of 2019, US core retail sales have averaged 1.0% growth per month which is the strongest 7-month period since records started in 1992.
US Philly Fed Manufacturing Index – The Philly manufacturing index has been quite volatile. In June we saw it dive to just 0.3%, but it jumped higher to 21.8 points in July. Although, it was expected to turn lower again today and fall to 10.1 points. This indicator did cool off but it beat expectations, coming at 16.8 points. The details were sort of mixed as well, with prices paid fell to 23.2 points versus 25.5 last month, while new orders increased to 6.7 points from -1.5 last month. The number of employees remained negative at -1.6 points but improved from last month which stood at -9.6 points. Work hours deteriorated, falling to -1.3 versus 3.8 in July. Inventories improved to 5.8 points versus -10.9 last month, but six month general business conditions fell to 25.7 points from 30.8 in July.
US Prelim Unit Labour Costs Q2 – The unit labour costs which shows the change in the price businesses pay for labour, apart from farming sector, have been sort of volatile as well in the recent quarters. They decline by 0.9% in Q2 of last year, but in Q3 labour costs turned positive again, growing by 1.2%, which was revised to 2.0%. This report wasn't released for Q4 because of the US government shutdown, but in Q1 of this year, labour costs turned negative again, declining by 0.9%, which was revised lower to -1.6% today. Although, expectations were for a 1.7% increase in Q2. The report today showed that labour costs jumped higher by 2.5% in Q2 which is a positive reading.
US Industrial Production – The industrial production has been pretty weak in the last several months in the US. We did see a 0.4% jump in May, coming after two negative months when sales fell by 0.6% in total, but in June sales fell back to flat at 0.0%. This report was expected to show a small 0.1% growth in June.
Trades in Sight
The main trend is bearish
The pullback higher looks exhausted
MAs continue to provide resistance
Pullback are good opportunities to go long on EUR/GBP
NZD/USD has been on a bearish trend for more than a month since it reversed at the middle of July. The trend was pretty strong in the first couple of weeks and the smaller period MAs such as the 20 SMA (grey) and the 50 SMA (yellow) were providing resistance on the H1 chart and pushing this pair lower. The trend slowed in August and the larger moving averages caught up, so they turned into resistance for this pair during this month. The 100 SMA (green) and the 50 SMA are providing resistance today and the pressure remains on the downside, so we still keep a bearish bias for this pair.
In Conclusion
The retail sales from UK and US were pretty positive today which is a good sign for the shape of the UK and US consumer, especially after the jump in the core US sales. But, comments from China are keeping the sentiment subdued in financial markets. I suppose the trouble in Hong Kong will continue to elevate since China is trying to snatch the small island.