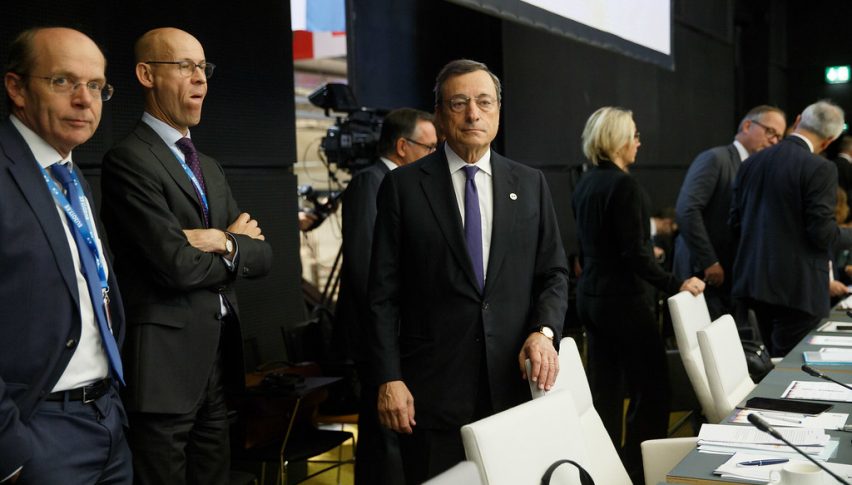 Forex Signals US Session Brief, Sep 11 – The Euro Retreats Ahead of the ECB Meeting Tomorrow
Posted Wednesday, September 11, 2019 by
Skerdian Meta
• 3 min read
The sentiment in financial markets turned positive last week as China and the US softened their tones. As a result, risk assets such as Commodity Dollars and stock markets have been bullish and they continue to remain bullish this week, as the risk sentiment remains on.
This morning we heard rumours from the Global Times editor-in-chief, Hu Xijin, that China will introduce new measures to help the economy, which is helping the sentiment further. He tweeted: "Based on what I know, China will introduce important measures to ease the negative impact of the trade war. The measures will benefit some companies from both China and the US." AUD/USD got a boost from the RBA, which suggested that there will be no QE programme coming up.
So, commodity currencies have been grinding higher again today, while the JPY tumbled lower overnight as a safe haven due to increased risk appetite. Although, the Euro has turned bearish today after being bullish since early last week. The reason for this is the meeting by the European Central Bank (ECB) tomorrow. The economy of the Eurozone is in great difficulty, with inflation really soft and manufacturing sector in contraction and even recession in major Eurozone countries. So, markets are expecting the ECB to either announce another monetary stimulus package or hint at such a package for the coming months, and hence the bearish reversal in Euro pairs. Although, the ECB might disappoint tomorrow, so traders are being cautious.
The European Session
Russia's Novak Speaks on Oil – Russian energy minister Alexander Novak commented earlier that they did not discuss any moves to change oil prices with Saudi Arabia. But there was discussion on oil price levels. Current oil prices are defined by the market.
German Institutions Lower GDP Forecasts – IfW and DIW cut their 2019 GDP forecasts for the German economy as follows:

IfW sees German economy expanding by 0.4% this year down from 0.6% previously 0.6%
2020 GDP is seen at 1%, down from 1.6% previously
Notes that German economy likely to shrink by 0.3% in Q3
This means, falling into a technical recession

DIW now sees German economy expanding by 0.5% this year, down from 0.9% previously
2020 GDP is expected at 1.4%, down from 1.7% previously
Further risk next year comes from no-deal Brexit
If that happens, it would slash a further 0.4% off 2020 economic growth

China M2 Money Supply and New Loans – China released new loans and M2 money supply figures a while ago. New loans were expected to come at ¥1,200.0 billion, but they came higher at ¥1,210.0 billion. Aggregate financing also came higher at ¥1,980.0 billion against ¥1,604.5 billion expected. M2 money supply fell from 8.5% to 8.1% in the last reading, but was expected to tick higher to 8.2% today and it did.
Brexit Talk – Tory lawmaker Andrea Leadsom said early this morning that we are looking at creative ways to ensure that there is no Irish backstop. We are looking at getting a good deal that works for the UK. The deal will be different from the existing one. Germany's Merkel also chipped in, saying that we still have every chance of an orderly Brexit, but she maintains that Germany is prepared for a no-deal Brexit. Labour Party deputy chief Tom Watson said that it feels like a Brexit election is inevitable. Our first priority must be to prevent a no-deal Brexit.
The US Session
OPEC Urges Caution – OPEC released its latest monthly oil report where it urges caution and efforts to avert a glut relapse. OPEC warns producers not to pump too much crude amid waning global economic growth. 2020 global oil demand growth seen at 1.08 mil bpd (previously 1.14 mil bpd). The downwards forecast revision is due to the ongoing economic slowdown.
US PPI – The producer price index PPI has ben steady at 0.1% in the last several months leading to last month's report whihc showed a 0.2% increase in July. Although, the PPI is expected to fall flat at 0.0% today. Core PPI turned negative last month, as it showed a 0.1% decline. But it is expected to reverse higher and increase by 0.2% today.
US Final Wholesale Inventories – The initial reading for wholesale inventories for June fell flat at 0.0% as last month's report showed. But the final reading showed a 0.2% increase. Today, wholesale inventories are expected to show an increase by 0.2% again for July.
Trades in Sight
The trend has shifted to bearish
The pullback higher earlier today is complete
The 50 SMA is pushing the price lower
The 50 SMA is providing resistance once again as the downtrend resumes
USD/CAD has turned bearish in the last week or so, being helped by the bullish momentum in Crude Oil. During this time, the 50 SMA (yellow) has been providing solid resistance, ending the retraces higher and pushing the price lower. Earlier today we saw another retrace higher on the H1 chart, but the pullback ended at the 50 SMA once again. The price formed a doji candlestick below that moving average which is a reversing signal. We went short on that chart setup and now it seems like the bears are gaining momentum as stochastic heads down after being overbought for a short period.
In Conclusion
The sentiment is still improving in financial markets after China suggested more stimulus to help the economy. The new loans increased last month, so this might be one of the measures to do so. Brexit is heading towards another extension, which is also helping keep the sentiment positive.