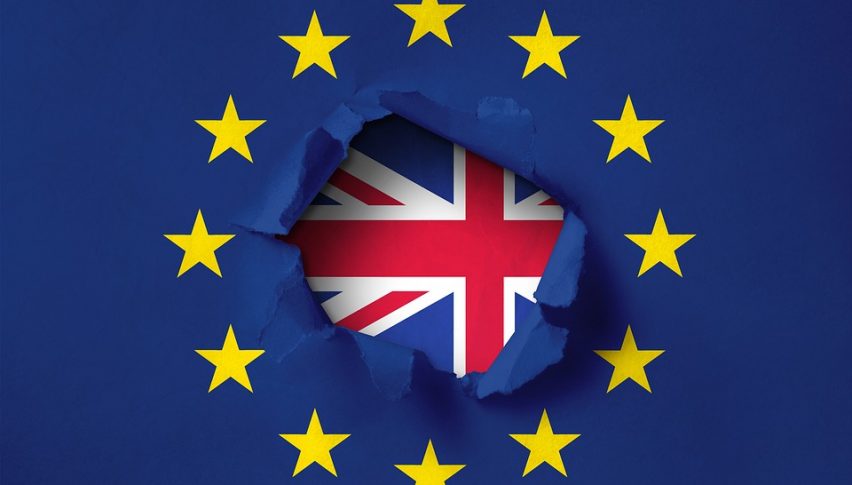 Forex Signals US Session Brief, Oct 3 – USD Continues the Decline, GBP Pops on Brexit Optimism
The sentiment shifted in financial markets on Tuesday afternoon after the US ISM manufacturing report came in pretty weak, showing that the contraction in this sector deepened further in September. That increased fears for a further economic slowdown in the US s well as globally and the sentiment has turned pretty negative once again, with stock markets suffering some major losses for the second day and the USD sliding lower against all major currencies.
In Europe, we saw a further slowdown in the service sector, so it seems like this service has been affected by the decline in manufacturing, which is in deep recession in the Eurozone. Service PMI figures from major Eurozone countries showed that this sector is close to stagnation. In the UK, services fell in contraction last month as today's report showed. But, the GBP has rallied higher on some Brexit optimism. Conservatives in the UK are supporting Boris Johnson's Brexit plan, even the Tory rebels who voted against Johnson in September. The DUP Party of North Ireland is on board as well and the GBP has surged higher, despite services falling in contraction.
The European Session
Eurozone Services PMI – The manufacturing sector has been in recession in the Eurozone for about a year now, although the services sector was holding up well. But, in recent months, the service sector has weakened as well. Apart from Italy, the services PMI from the Eurozone missed expectations today and weakened further, getting pretty close to stagnation, so the weakness is spreading across al sectors now.
UK Services PMI – Services PMI missed expectations of 50.3 points and fall to 49.5 points. The service sector falls in contraction as well now in Britain. Services composite PMI also declined to 49.3 vs 50.0 expected, down from 50.2 prior. Services account for 4/5th of the UK economy, so the Bank of England will take notice of this.
Eurzone PPI – The producer price index PPI has been negative since January this year, although the report released last month showed a 0.2% increase. But that was revised lower to 0.1% today. Today's report was expected to turn negative again and show a 0.4% decline, but the decline was larger at -0.5%.
EU Officials Are Not Impressed by the Brexit Proposal – A senior EU official said via Reuters early this morning that the Brexit deal proposed by Johnson "can't fly". It  fails to offer solution on customs and do not represent basis for agreement.
UK PM Johnson Speaking on Brexit – UK PM Johnson said a while ago that these proposals don't deliver everything. There can be no path to a deal except through replacing the backstop. We are some way from a resolution. He welcomes statement from Juncker that EU will examine UK proposals objectively and has given a guarantee that the UK will never conduct checks at the Irish border. Ready to leave October 31 if European neighbours do not show willingness to reach a deal will have to leave with no deal.
The US Session
FED's Evans Speaking on the Economy –  FED's Evans was speaking on Reuters earlier, saying that the main risk to US economy is struggling manufacturing. The FED will do whatever is right for the US economy. Two recent rate cuts were appropriate, but will be open minded in case adjustment is needed. Some dovish words from Evans.
US Unemployment Claims – Unemployment claims have been in the 210k-220k region for quite some time, but in the first two weeks of September they fell in the 200k-210k region. They returned to the previous range in the third week of September, as last week's report showed, coming in at 213k, which was revised higher today to 215k. Today's report was expected to remain unchanged at 215k, but it came a bit higher at 219k.
US ISM Non-Manufacturing PMI – The US ISM non-manufacturing PMI indicator has shown that this sector of the economy has been holding up pretty well. The report released last month stood at 55 point which is a really decent level. The ISM Non-Manufacturing PMI today came in very low, falling 3.8 points from July's figures to 52.6 points. This hasn't helped sentiment, as stocks are plunging. This is a three year low and the USD has resumed the decline again.
Trades in Sight
Bearish USD/JPY
The trend has turned bearish
Sentiment has turned negative
Fundamentals point down
The 20 SMA provided resistance today
USD/JPY has turned bearish again since Tuesday, after the US ISM manufacturing report which showed that that sector fell deeper in contraction. Today's ISM non-manufacturing report came in pretty soft as well, increasing fears that the US economy might be headed towards stagnation or recession. That has hurt the USD, sending USD/JPY lower, but this pair has another reason to decline, the JPY as safe haven, which have been attracting bids recently. So, the picture has turned totally bearish in this pair.
In Conclusion
The USD can't seem to get a break as the economic data keeps coming weaker every month. After Tuesday's deeper contraction in ISM manufacturing the USD turned bearish and today's soft ISM non-manufacturing figures are sending it lower again. Will the USD turn bearish on the long term now?