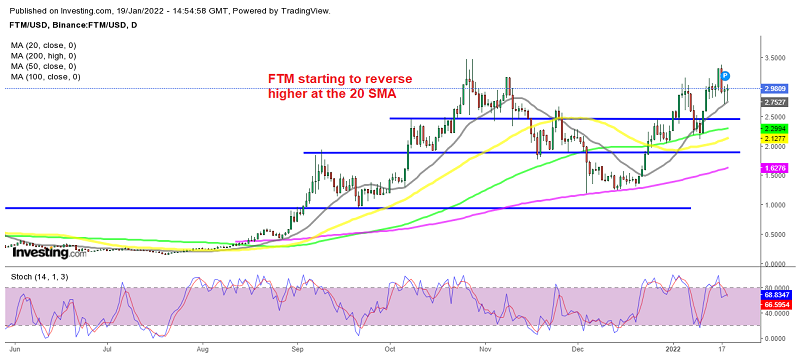 Bullish Pressure in Fantom Crypto (FTM), Terra LUNA, as MAs Hold
Cryptocurrencies turned bearish again this week, after the bullish period last week, which came after another bearish weak. So, the market remains highly undecided, but certain cryptocurrencies are showing strong buying pressure, keeping the uptrend going even during bearish times, such as in the last two and a half months. Fantom and Terra LUNA are among those crypto coins, and this week, they are itching to turn bullish, even with the market in a bearish mode.
Fantom Finds Support at the 20 Daily SMA
Fantom coin has been one of the most bullish cryptocurrencies since August last year, having made some massive gains. After the pullback in November, Fantom has shown increasing bullish momentum again, rising from $1.20, where the 20 SMA (purple) held as support for FTM/USD, to $3.30, and retreating just below the all-time highs.
But, the retreat hasn't been too deep, and in the last two days, we have seen two-pin candlesticks, which point to further bullish momentum in the coming days. Fantom is becoming a very popular network, with transactions on the Layer 1 blockchain surpassing those on Avalanche. The DeFi (decentralized finance) sector is growing fast and users want higher yield returns, which Fantom offers. Fantom is integrating with the e-commerce platform Shopping.io, which will make it possible for online shoppers to make purchases from major retailers, using the FTM coin. So, the interest will grow further for Fantom, which will keep FTM on a bullish trend.
Terra LUNA Finds Support at the 50 SMA and the Previous Resistance
The previous support at $75 holds for Luna
Terra LUNA has been the other bullish cryptocurrency among the major coins, as it keeps the uptrend going, making higher highs. The retreat of the first week of January ended last week, and now the price is bullish again. LUNA/USD is trading at $80 now, but I'm sure it will move above $100 and reach new highs soon.
Terra LUNA is another major player in the DeFi sector and it keeps attracting funds, as the total value locked (TVL) in DeFi increases above $21 billion for this coin, since Terra also offers some juicy returns of 20% to 50% if you stake here. This increases the demand for UST stablecoins and for the LUNA coin, so the bullish momentum is expected to continue here as well.