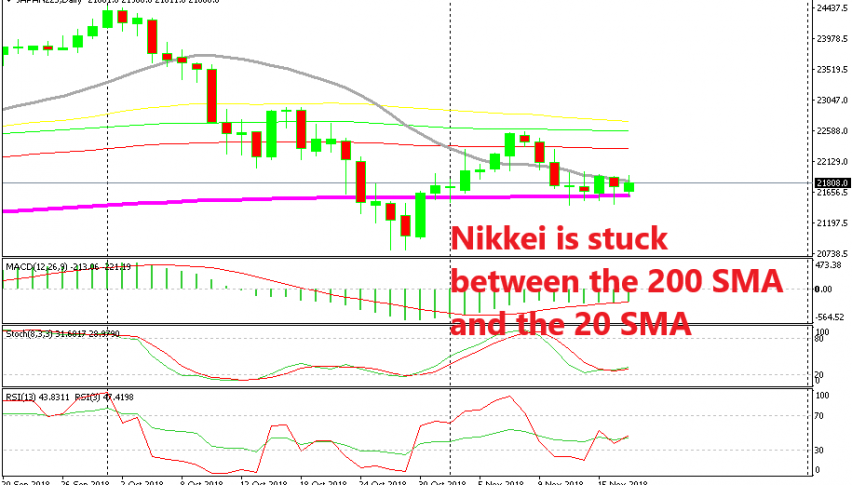 Nikkei Finding Support at the 200 SMA, but the 20 SMA is not Allowing a Bounce
Stock markets have found some solid ground after they have been declining for a few months now. NIKKEI225 has shown more resilience than its European peers because the Bank of Japan is still very accommodative while the situation in Europe is still not very attractive for stock investors.
But, Nikkei joined the rest of the pack in October and suffered some heavy losses during that month. This month though, the situation looks a bit better. Nikkei picked itself off the lows in the previous two weeks, although last week, Nikkei made another bearish move, but that move seems like a retrace of the previous bullish move.
I say it's a retrace because this index is not making new lows. Instead, it has been finding solid support at the 200 SMA (purple) on the daily chart in the last several days. The price has pierced it briefly in the last several days, but it has returned above it, so that moving average has turned into a strong support indicator.
The buyers have also tried to test the upside, but they haven't been able to reverse the move and push higher because the 20 SMA (grey) is not giving way. It has been capping the moves higher last week as well as today, so it has turned into resistance.
The 20 SMA is working as support on the monthly chart
Both sides are vulnerable now as the sentiment is still a bit fragile/negative. But the technical analysis points up. If we switch to the monthly chart, we see that last month, the price formed a big bearish candlestick but the 20 SMA here is providing support. It got pierced last month but eventually, October's candlestick closed above it. This month, the sellers haven't been able to push above it.
So, the monthly chart points to a possible bullish reversal, since the bigger trend is still bullish and the 20 SMA is providing support. We might be persuaded to go long on Nikkei and we could make plenty of pips if the bigger uptrend resumes again, but, we have to see how Brexit and the Italian budget plans will go this week. If they both find a solution, then the sentiment will improve and stock markets will turn bullish again.