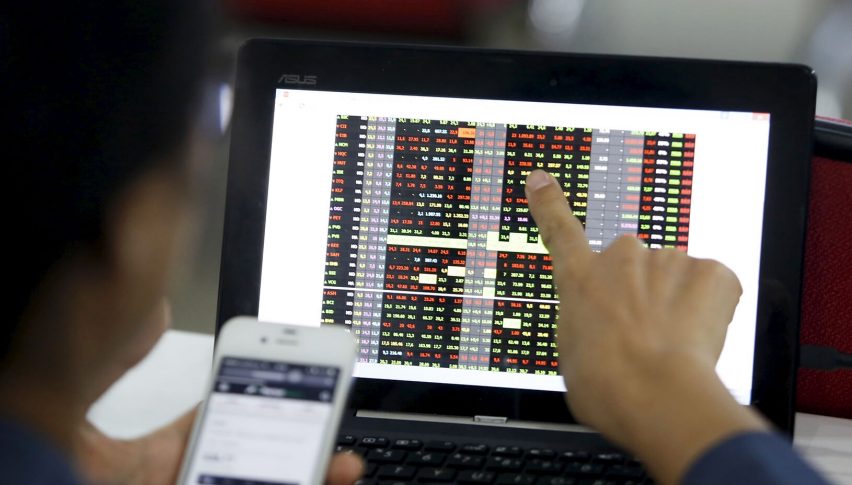 US Session Forex Brief, Apr 24 – The USD Holds Gains as Earnings Reports Come Out
The USD turned bullish on Thursday last week after the impressive jump in retail sales. Retail sales have been quite volatile recently, so that jump came as a bit of a surprise and the USD started to move higher. The uptrend stalled during last Friday and this Monday due to thin liquidity and slow price action during the Easter weekend. But, it resumed yesterday after Donald Trump's tweet which threatened retaliation on the EU's trade tariffs on Harley Davidson, which in fact, were a reaction themselves to the Steel and Aluminium tariffs that Trump slammed on everyone early last year. So, it seems that Trump just wants to open another trade war front, this time with the EU.
The USD continues to be bullish today as well as a result, while commodity Dollars continue to slide lower after the disappointing inflation report from Australia today. Last week we saw the CPI inflation report from New Zealand which was also disappointing and it turned NZD/USD bearish and it pulled down the Aussie with it. Today, the inflation report from Australia for Q1 of this year was even more disappointing as inflation stagnated in the first three months. So, the Aussie lost more than 70 pips, dragging the Kiwi lower as well. The earnings reports from the US are being released today with Boeing missing expectations, but Boeing's case is an abnormality so the USD continues to move higher.
European Session
German Ifo Business Climate – Business climate has been deteriorating in Germany for more than several months, but last month we saw a small jump from 98.7 to 99.6 points. That raised hopes of a reversal in the coming months and today, this indicator was expected to improve further to 99.9 points. But it missed expectations coming at 99.2 points, so no reversal for the declining trend just yet.
ECB Commenting on US Car Tariffs That are to Come – Everything points to more tariffs from the US, this time on European car manufacturers. The European Central Bank is seeing the tariffs coming and they commented today saying that the immediate impact of US car tariffs would be small. But escalating trade tensions could have grave consequences for the global economy. The Eurozone car industry would incur losses of 4% on US tariffs, simulation shows. Consequences of the tariffs implemented last year pose only a modest adverse risk to the global and Eurozone outlook.
US MBA Mortgage Applications – Mortgage Applications declined by 7.3% last week, following a 3.5% decline in the previous one. The purchase index also declined to 269.3 points from 280.7 prior, market index came at 425.6 versus 459.0 previously and refinancing index fell to 1,293.0 from 1,453.0 prior.
Boeing Misses Estimates – The US companies are releasing the earnings reports today with Boeing figures already out. Core earnings per share came at $3.16 against $3.25 estimated but at least the revenue came as expected at $22.9 billion. They will suspend forecasts now amid 737 Max worries.
The US Session
China's PM Li Speaks About the Economy – The Chinese Prime Minister, Li Keqiang, was speaking a while ago, saying that China will keep economic operations within reasonable range. He added that China's economy still faces downward pressure so the fiscal stimulus will continue, I reckon.
Belgian NBB Business Climate – The business climate has been deteriorating in Belgium as well, just like in Germany. We saw a small improvement last month from -1.7 points to -0.7 points which was a little encouraging, but today we saw yet another deterioration. Business climate indicator was expected to remain unchanged at -0.7 points but it declined to -3.2 points, so things are still getting worse in Europe.
China CB Leading Index – The CB leading index was declining during most of last year in China, but it made a small reversal in February as last month's report showed. That was revised higher today to 1.1%. This indicator ticked higher to 1.2% for March as today's report showed, which is a good sign for the global economy.
BOC Meeting and Rate Decision – Today is the usual meeting from the Bank of Canada. No one expects any change to the interest rate decision but it will be important to watch out for the details in the statement and, of course, BOC Chairman Poloz's press conference.
The trend has turned bearish
Fundamentals are bearish
The 100 SMA has turned into support for Dax today
We went short on this pair earlier today and are already in profit with our signal. The trade is quite simple, the trend has shifted to bearish now with the price nearly 200 pips lower in less than a week. Last week it was the disappointing inflation report from New Zealand which turned the Aussie bearish, while today the Australian CPI report for Q1 was even more disappointing. So, these two reasons are more than enough for this trade which seems to be going well so far.
In Conclusion
The Bank of Canada has just published the interest rate decision and the monetary policy statement which comes with it. They left rates unchanged as widely anticipated. Although, the statement says that the global economic growth has slowed by more than the Bank forecast in its January Monetary Policy Report (MPR). USD/CAD has jumped 80 pips higher in the meantime, so I expect Poloz to be bearish as well later on today when he speaks in about an hour.