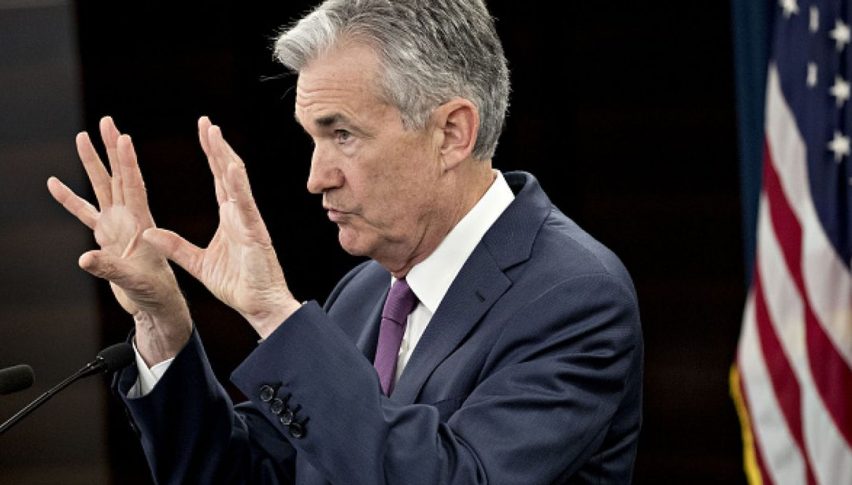 US Session Forex Brief, May 2 – The Bullish Reversal Continues for the USD After Powell Shakes Markets Yesterday
Yesterday the FED held its meeting in the evening. The USD has been bearish all week, as traders were expecting the FED to sound even more bearish than in the last meeting. The bearish momentum picked up more pace after the US manufacturing PMI which was released in the afternoon showed a dive in manufacturing activity during April. In fact, most market analysts were anticipating a rate cut before the end of this year, as rate cut odds stood at 60%.
The statement was pretty much the same as in the last meeting, but the speech from the FED chairman Jerome Powell turned the tables upside-down. Powell said that the soft patch in inflation is transitional, playing down one of the main concerns for the FED. The market took that as a sign that the FED might continue with rate hikes if things start getting better, as opposed to a 60% rate cut expectation until the end of the year, before the FED meeting.
As a result, the USD reversed back to bullish, gaining around 80 pips from top to bottom yesterday. Today, there was a pause during the Asian and the European session, but the uptrend is resuming again, so the picture looks good for the Buck at the moment. On the other hand, stock markets turned bearish since higher interest rates (if the FED resumes rate hikes again) mean that bonds become more attractive for investors and there is less liquidity for stocks.
European Session
German Retail Sales – Retail sales were really soft during most of last year as we saw them post negative numbers in most readings. Although this year they turned into the positive territory posting a 3.3% jump in January and a 0.9% increase in February which was revised lower to 0.5% today. For March, retail sales were expected to turn negative again which they did, but the decline wasn't as big as anticipated, with sales falling by 0.2% against -0.5% expected.
Spanish Manufacturing PMI – Manufacturing has turned really soft in Europe, but in Spain manufacturing held up well apart from February when it slipped into contraction briefly. But, it came back into positive territory in March and today's report was expected a further improvement to 51.2 points from 50.9 points previously. But the actual number beat expectations coming at 51.8 points.
Italian Manufacturing PMI – Manufacturing activity has been in contraction in Italy since September last year and it kept deteriorating until it bottomed in March at 47.4 points. Today's report which is for April was expected to show a slight improvement to 47.8 points, but the figures beat estimates, coming at 49.1 points, which is another good sign for this sector in Europe.
German Manufacturing PMI – In Germany, manufacturing continues to remain really soft. It is the last country in the Eurozone where this sector fell in contraction but things precipitated pretty fast and in March this sector fell to 44.7 points in the first reading, which was revised lower in the final reading to 44.1 points. Today's report was expected at 44.4 points but came at 44.5 points which is still a very bad spot.
UK Construction PMI – Construction activity fell into contraction in February in Britain to 49.5 points. It improved a bit in March as the PMI indicator came at 49.7 points, but that was still below the flat level. Today's report which is for last month was expected to show a reversal back into expansion and it did. Construction PMI came at 50.5 points against 50.4 expected.
Bank of England Interest Rate Decision – Bank of England left the interest rates unchanged at 0.75% as expected and they released the statement as well with the rate decision. Official bank rate votes also remained unchanged, unanimously at 0-0-9 votes to keep rates unmoved. BOE notes in the statement that Q1 GDP was likely boosted by stockpiling, as we mentioned in the last 2 weeks. Underlying growth is 'slightly stronger' than expected in February. The BOE also sees inflation increasingly above target at the end of forecast horizon. It signaled that more than one rate hike is needed to keep inflation in-check. This should be sort of bullish for the GBP.
US Session
Carney's Press Conference – BOE's Carney started the statement saying that global tensions have eased since February. The BOE sees modest pickup in global growth this year. UK domestic tensions still remain, in contrast with the global situation. Businesses are focused on short-term Brexit plans. Housing market is the only area where UK consumer demand has been subdued. Current margin of economic slack is expected to widen a little in coming quarters. The decline in the BOE rate expectations is driven by global factors. If forecasts are right, more rate hikes are needed than in market interest rate curve. It just didn't require hikes at this meeting (until Brexit gets sorted, the BOE has little room to maneouvre). Wage growth has picked up a little more than expected and employment is also stronger. Consumer spending is driven by real wage growth. If the economy is notably stronger in Q2, that might be news for monetary policy. As Brexit uncertainty lifts, UK neutral interest rate would rise. Basically, Carney said that if it wasn't for Brexit, the BOE would get going with hiking interest rates.
US Prelim Unit Labor Costs QoQ – Unit labour costs have been declining for many years but they posted a decline in Q2 last year. Although, they reversed and increased again in the last two quarters. Today's report which was for Q1 of this year was expected to show a 2.4% increase in labour costs, but they declined by 0.9% instead. This means less income and lower wages for the workers.
US Unemployment Claims – Unemployment claims have been on a declining trend since they jumped higher in January to around 250k. They fell below 200k earlier this month, although last week's report showed an increase to 230k and today's number came exactly as last week at 230k, missing expectations of 220k.
US ISM Manufacturing PMI – US ISM manufacturing report is out and it is showing a big miss. ISM manufacturing indicator declined from 55.3 points in March to 52.8 points in February. ISM manufacturing prices also dropped from 54.2 points in March to 50.0 points, which means that prices remained flat last month. Employment also fell to 52.4 points against 57.5 points previously. Prices paid remained flat, coming at 50.0 points against 55.0 expected, while new orders declined from 51.7 points from 57.4 points prior. A pretty negative report which should have some impact on the FED later today and the USD has turned bearish again.
US Factory Orders MoM – The factory orders have been pretty volatile and soft at the same time in recent months. In February they declined by 0.5% as last month's report showed, but they were revised to -0.3% today. In March they were expected to increase by 1.0%, but beat expectations jumping 19% higher.
The main trend is bearish
The pullback higher is over
The 20 SMA is now pushing the price lower
The trend is strong if the 20 SMA is pushing the price
NZD/USD has been on a bearish trend since March. but we saw this pair retrace higher during the second half of last week. The retrace was complete yesterday when the Asian session started after the soft employment report from New Zealand. This pair lost around 50 pips after that and it took another hit after Powell's press conference. It made a small retrace higher during the Asian session today but the sellers returned once the 20 SMA (grey) caught up with the price. So, everything is pointing down for this pair.
In Conclusion
The markets have changed now after Jerome Powell's press conference yesterday. He only played down the soft inflation part, but that was enough to change everyone's minds and now we're back to rate hikes from the opinion that the FED might actually cut interest rates towards the end of the year. Now the USD is climbing and risk assets are declining.
Durable goods orders showed a 0.2% increase in August, against -0.5% expected and July's -5.2% decline, which was revised to -5.6%
3 days ago