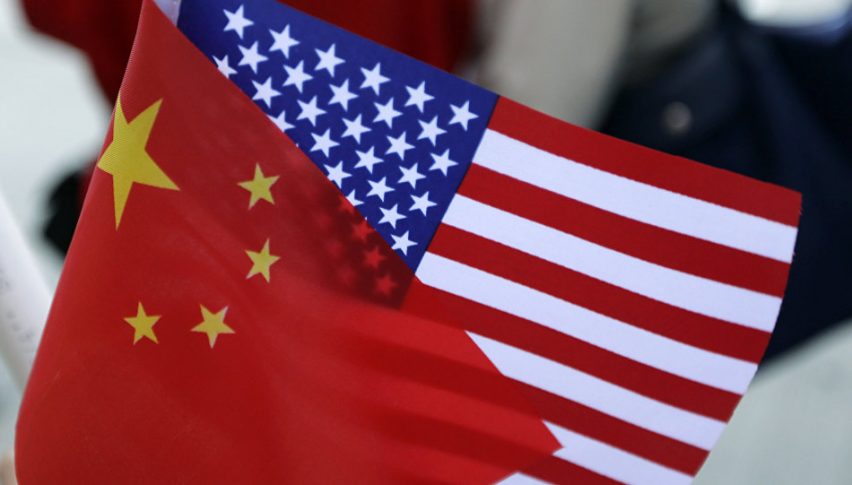 US Session Forex Brief, May 8 – Who's Playing Dirty, US or China?
This week we had two central banks holding meetings, starting with the Reserve Bank of Australia (RBA) yesterday.They were expected to cut interest rates from 1.50% to 1.25% but decided not to change them this time despite a weakening economy and inflation. Today, the Reserve Bank of New Zealand (RBNZ) was expected to hold interest rates at 1.75% but they delivered a surprising cut to 1.50% which sent NZD/USD 70 pips lower during the Asian session.
Although, there was a report published today which might turn really important in the coming days and weeks if it is true. Reuters published a report earlier which tells us that China backtracked on the most important details of the trade deal last week, so now it makes sense that Donald Trump threatened with more tariffs on China if they don't go ahead with the deal. The report says that China had deleted its commitments to resolve the main complaints by the US last Friday such as theft of intellectual property and trade secrets, forced technology transfers, competition policy, access to financial services, and currency manipulation. If this is true, then things will get worse. But, everything is still very uncertain now and markets continue to be very quiet as a result, waiting for a direction which might come after this week's China-US meeting.
European Session
German Industrial Production – Industrial production has been declining for more than a year in Germany. We have only seen three positive numbers since January 2018 while the negative readings count to 10 months. Although, industrial production turned back to positive in February as last month's report showed, after four straight months of declining. But, February's number was revised lower today to 0.4% from 0.7%. Today's report was expected to show yet another decline of 0.5% for March, but instead production grew by 0.5% which makes this the longest positive run for more than a year.
UK Halifax PMI – The Halifax PMI indicator, which shows the change in the price of homes financed by HBOS, has been pretty volatile, turning from positive to negative from month to month since the end of last year. Last month's report showed a 1.6% decline for March, which was revised to -1.2% today, having come from a strong 6% jump in February. Today, this indicator was expected to turn positive again and increase by 0.3%, but it beat expectations coming at 1.1%.
China Backtracks on Promises – The US placed tariffs on China early last year and it seemed that it forced the Chinese to sit on the negotiating table and recently, comments from both sides pointed to a trade deal being struck soon. But the US president Trump threatened to increase tariffs on China from 10% to 25% last weekend which came as a bit of a surprise. But now we see that he had a reason for this and the reason is that China backtracked on the promises to tackle issues such as IP theft, currency manipulation, forced technology transfers, etc. If this is true then expect stock markets to start tumbling next week because I don't see a deal being struck this weekend.
Theresa May Seems to Be on Her Way Out As UK PM – Theresa May has had such a terribly difficult job trying to get Brexit going, although one of the reasons which made her position worse is the fact that she was on the remaining camp before the referendum. Now, according to the Sun's political editor, Tom Newton Dunn, the 1922 Committee Chairman, Graham Brady, had a "very productive" conversation with May earlier and will await firm thoughts on her departure in the near future. So, it seems that she will be forced to leave soon.
ECB Draghi Speaks – ECB president Mario Draghi was speaking at the "Generations Euro students", so most of the speech was about generalities and not on the monetary policy. Although he did touch some aspects of it when he said that the ECB won't accept defeat on inflation target. That comment should be bearish for the Euro since it reaffirms the pledge to increase inflation which means loose monetary policy. Draghi is talking about crytocurrencies and he is highlighting their weaknesses such as high volatility and no central bank to back them up. These were some negative comment on cryptocurrencies, so hopefully Bitcoin traders will take notice and turn bearish.
US Session
US MBA Mortgage Applications – The MBA mortgage applications increased by 2.7% last week after declining by 4.3% in the previous one. Purchase index also came higher to 270.2 points from 259.4 prior, the market index increased to 418.1 points against 407.2 in the previous week and the refinancing index came at 1,238.5 points from 1,228.3.
Canadian Housing Starts – Housing starts have been on a declining trend in Canada since the end of last year, bottoming at 173k in February which was revised lower to 166k last month. But they posted an increase to 193k in March and today they beat expectations of 194k, increasing to 235.5k, so it seems that the trend is changing.
May's Spokesperson Commenting – UK PM spokesman, James Slack was holding a speech a while ago saying that Theresa May has been clear she will see through first phase of Brexit. May will make way for new leadership for second phase of Brexit. Negotiations with Labour party are to deliver on first phase of Brexit and cross-party talks are to resume at about 1700 GMT'
The trend has turned bearish
Fundamentals keep going against this pair
The 20 SMA is pushing the price lower
The 20 SMA is now providing resistance
The situation in this pair is pretty much the same as yesterday and the technical picture looks even more bearish now. USD/JPY has been on a bullish trend during the first few months of this year, but in the last weeks this pair traded in a range. That seems to have changed now after the bearish gap over the weekend. Now the trend has shifted to bearish and the pressure is increasing since the pullbacks higher look very weak. The fundamentals have shifted the sentiment to negative which benefits safe havens, so this pair should remain bearish until the sentiment changes, probably by next week, if it doesn't get worse. Although, now it seems that the 20 SMA has turned into resistance which shows that the bearish momentum is strong.
In Conclusion
So this is the end of Theresa May, out with no glory. Not that she had an easy job, but she didn't do much either. The GBP is already declining today. Also, the trade war which we thought was over, apparently isn't as China has pulled back from all the important issues that the US was interested in, so we're in no man's land again now as traders.