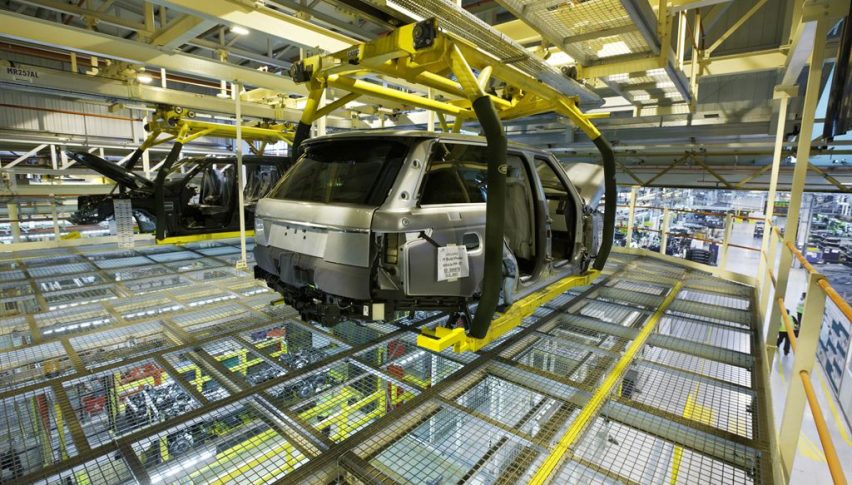 Forex Signals US Session Brief, July 24 – Euro Slips as Manufacturing Recession Gets Deeper in the Eurozone, GBP Rallies as the New Cabinet Forms
The European Central Bank has turned pretty bearish in the last few months, as the economic data from the Eurozone continues to show further deterioration of the economy. The manufacturing and industrial sectors have been hit the hardest by this economic slump which has spread across the world. Inflation has also weakened considerably, but it is just a symptom of these two sectors. Today's manufacturing and services reports from the Eurozone were released and we saw yet another decline in manufacturing activity. In Germany, the recession in the manufacturing sector deepened further, which affected the Eurozone manufacturing negatively, sending it deeper in recession as well.
In France manufacturing softened too, but it is still expanding at least. The services seem OK for now in the Eurozone, but manufacturing and industrial production are the most important sectors and they are in big trouble. The Euro turned even more bearish after the economic data from Europe this morning, so I expect it to remain bearish heading into the ECB meeting tomorrow.
In Britain, Boris Johnson has taken the post of the Prime Minister and he is forming the cabinet. Dominic Cummings will likely be the adviser for Johnson. GBP/USD has broken above 1.25, partially helped by the correction lower in EUR/GBP. Although, I don't expect it to run much higher since Brexit will still be the same after Theresa May is gone. The European Parliament reiterated earlier that the Irish backstop must remain for an orderly Brexit, which brings us back to point zero.
The European Session
French Flash manufacturing and Services PMI – The services sector fell in contraction at the beginning of this year in France, as did the manufacturing activity. We have seen an improvement in the last few months, but we saw a revision lower to 52.9 points for June from 53.1 points previously estimated, while July came even lower to 52.2 points, missing expectations of 52.7 points. Manufacturing PMI for June was also revised lower to 52.9 points from 53.0 previously, while this month, manufacturing activity fell flat, with the PMI indicator coming at 50.0 points, missing expectations.
German Flash manufacturing and Services PMI – Services are in a good shape in Germany, with June's number revised higher to 55.8 points from 55.6 previously. We saw a small decline this month, but this sector remains in solid expansion. We cannot say that for manufacturing as it dipped further into recession this month, with the PMI indicator falling to 43.1 points from 45.5 points in June, which was also revised lower to 45.0 points today.
Eurozone Flash manufacturing and Services PMI – The Eurozone manufacturing report was released after the French and German reports. Manufacturing dived even deeper in contraction to 46.4 points, missing expectations which were for an unchanged reading from last month at 47.6 points. June figures were revised lower as well; Eurozone manufacturing PMI for June was revised down to 47.6 points from 47.8 points previously. Composite Eurozone manufacturing PMI declined to 51.5 points against 52.2 expected. Eurozone manufacturing falls to its lowest level since December 2012, while the composite future output index falls to the the weakest since October 2014.
BoJ Unsure What to do Next Week – Last week we heard Bank of Japan members sound dovish as inflation remains pretty weak. Now, they seem uncertain about what to do in next week's meeting. Reuters reported early this morning, citing sources familiar with the central bank, that BOJ officials are divided on whether to ease monetary policy next week or hold off on action. It shows that central banks are on a race to the bottom now.
Nothing Changed in Brexit for the European Parliament – After the election of Boris Johnson as the new British PM, the European Parliament was quick to reiterate that backstop is necessary for an orderly Brexit. They also added that the withdrawal agreement can't be reopened.
China Trying to Calm Things Down – After the trade war escalation in Q2 of this year, we heard some positive comments at the G20 summit. China is making a step forward with actual actions as the Chinese government gives a green light for five companies to buy up to 3 million tons of US soybeans. Perhaps we will see a deal soon, I hope.
The US Session
Belgian Business Climate – The business climate has been deteriorating in Europe and in Belgium. The climate indicator turned negative at the beginning of this year and it has dived deeper into negative territory. In June. the business climate indicator was expected to improve from -3.3 points previously to -2.2 points, but it got worse falling to -4.9 points. Today, this indicator is expected to deteriorate further and fall to -5.0 points for July.
US Manufacturing PMI – The manufacturing activity has been weakening in the US as well this year, falling to 50.1 points in June, which is very close to stagnation. Although, today we see that last month's number was revised higher to 50.6 points. This month the manufacturing PMI indicator is expected to improve to 50.9 points, so at least manufacturing is not falling in contraction in the US.
US Services PMI – The services sector used to be at a great place at the beginning of this year, but it turned softer as the year progressed and in June it too fell close to contraction at 50.7 points. Although, last month's number was revised higher as well to 51.5 points. Today we are expected to see this indicator tick higher to 51.6 points.
Trades in Sight
The trend is bearish
Fundamentals point down
The ECB meeting tomorrow should keep the Euro subdued
A resistance level has formed at 1.1150s
EUR/USD is headed for 1.11
EUR/USD turned bearish last week after the decline in the USD stopped. The bearish trend picked up further pace this week and after today's really disappointing manufacturing numbers from Germany and the Eurozone, we saw another decline in this pair. Fundamentals point down for this pair and the ECB should turn more dovish tomorrow, perhaps announcing further monetary easing. Besides that, a resistance level seems to have formed at 1.1150s for EUR/USD, so we decided to go short on this pair.
In Conclusion
The manufacturing figures from France, Germany and the Eurozone were terrible today. June figures were revised lower as well. This shows that manufacturing is getting worse instead of getting better in Europe, which is a sign that the ECB will remain pretty dovish in tomorrow's meeting, although how bearish remains to be seen.
The USD is looking softer today after the unemployment claims showed a jump to the highest since October 2021 last week
1 hour ago
USD/CAD continues to slide lower, although it stalled to the bottom of the range earlier, after the dive on the 25 bps hike by the BOC
1 day ago