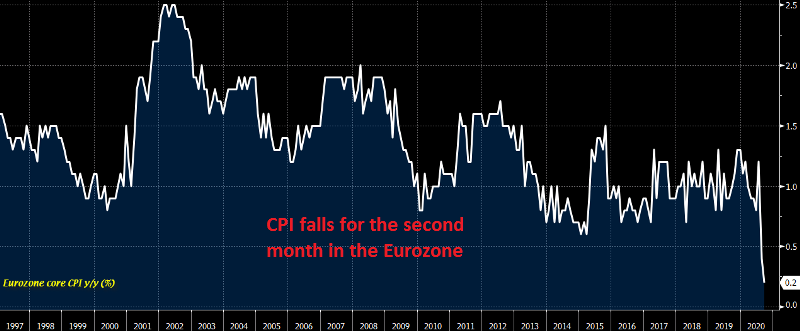 Inflation Declines Further in Europe, Unlike in the US
The economic situation in Europe is turning pretty bad again. We saw a decent rebound in the first couple of months after the reopening, but the data has been getting progressively weaker since July, and now the economy seems to be heading in the wrong direction again, while in the US the recovery is keeping up the pace.
Yesterday, we saw the price increase in the US, while today's CPI (Consumer Price Index) report showed another decline in Europe last month, after the decline in August. The services sector is in contraction again, but the Euro is holding well, despite all of this. However, this economic weakness will catch up if the US passes the stimulus package, which will send the EUR/USD crashing lower. Below is the inflation report for September:
Latest CPI Data Released by Eurostat – October 2, 2020
September preliminary CPI YoY -0.3% vs -0.2% expected
August CPI was -0.2%
Core CPI YoY +0.2% vs +0.4% expected
Prior Core CPI was +0.4%
Yikes, those are some really poor figures, as the Eurozone headline annual inflation remains more subdued in deflation territory – the lowest since February 2015 – with core inflation falling once more, to a record low reading of just +0.2% YoY. This week, the ECB has tried to brush off the more subdued price pressures, but it is surely only a matter of time before they will have to react with more urgency.