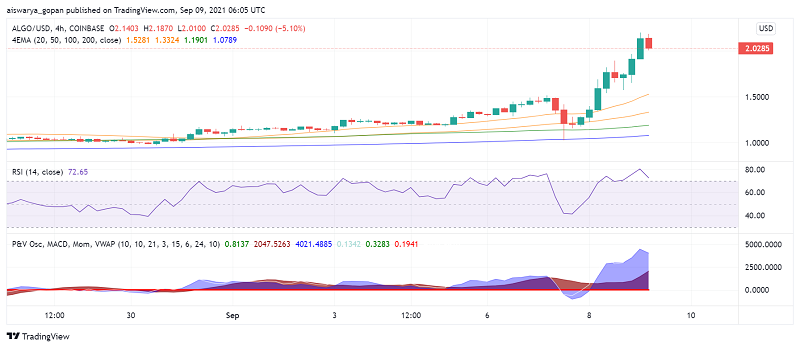 Why is Algorand (ALGO) Rallying Despite Crypto's Flash Crash?
Early on Thursday, the rally in Algorand (ALGO) continues even as most of the major cryptocurrencies extend their weakness after the flash crash which happened on Tuesday and continues to keep market leader Bitcoin well under the $50,000 mark. At the time of writing, ALGO/USD is trading at around $2.02.
The PoS blockchain designed for efficiency touts high transaction speeds, requires no mining and, as a result, is one of the most energy efficient blockchains existing in the world at present. According to a recent paper by UCL's Centre for Blockchain Technology, Algorand's blockchain consumes far less energy than market leaders Bitcoin and even fellow PoS network Ethereum.
ALGO is bucking the bearish mood in the crypto market on the back of strong fundamental developments lately. While the overall market was cheering El Salvador's adoption of Bitcoin as legal tender, Algorand got a bigger push from this news as it is the blockchain of choice on which Koibanx is building the nation's crypto infrastructure. Koibanx is working to increase the adoption of blockchain technology across Latin America and its pick of Algorand is likely to spur use of its blockchain network in the coming months.
Algorand to Make a Splash in DeFi and NFT Sectors Too
The blockchain designed to support more applications in the financial services industry and aid its digital transformation efforts has recently announced its plans to launch decentralized governance features at the beginning of next month. In addition, its team of developers are also working to expand its usability in the DeFi and NFT space, which could further drive up its adoption among projects and support the bullish mood towards ALGO among investors.
Founder and co-managing partner at Skybridge Capital, Anthony Scaramucci, also predicts more of an uptick in Algorand's price as the number of use cases and applications for its technology continues to increase. The ever rising interest in DeFi projects as well as NFTs could also help drive up the value of the ALGO token once its developers unveil new features in the coming weeks.
Key Levels to Watch
Technical analysis of the H4 price chart of ALGO/USD reveals a strong bullish bias among moving averages as well as leading technical indicators MACD and momentum. However, the RSI indicators suggests some interest among sellers as well at the moment.
Algorand's price has broken past the pivot point at $1.21 as well as resistances at three levels – $1.45, $1.58 and at $1.96 as well. With no further obstacles, it is likely to be a smooth run higher for buyers in the near-term.