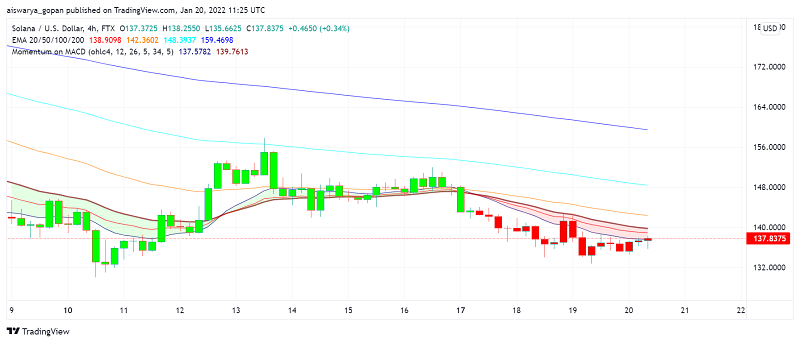 SOL Price Analysis: Can Solana Take Away Ethereum's Leadership in NFTs?
Solana (SOL) is trying to recover after sliding lower in early trading on Thursday, supported by strong fundamentals even as the weakness in Bitcoin keeps investors away from the overall crypto market. At the time of writing, SOL/USD is trading at around $137.83.
After being compared with Visa by Bank of America last week, Solana has earned more praise – this time from JPMorgan, for pulling away Ethereum's market share in the NFT space. In a recent analyst report, the investment bank highlights how market leader Ethereum is losing its dominance in NFTs because of its high gas fees and network congestion issues, and the biggest gainer of this development has been the Solana blockchain.
As the fastest growing universe in the crypto ecosystem, NFTs have a considerable influence on the adoption and interest in the overall digital asset market. Solana has been eating away Ethereum's share in this space since August 2021, pretty much as soon as the NFT boom occurred.
Solana's Projects in the Limelight
In other interesting fundamental developments, Solana-based projects are booming and attracting considerable investment as well. Metaplex – a company that allows users to create their own NFT marketplaces on the Solana blockchain, recently raised $46 million worth of funds which can help it scale its operations and offer grants to creators. This development will further boost the high-speed blockchain's allure as an ecosystem for NFTs.
Meanwhile, the GameFi ecosystem on Solana is also likely to witness stellar growth, especially after G2 Esports created a new NFT gaming community on the network. Called "Samurai Army", the NFT project features randomly generated NFTs which will offer users access to exclusive perks related to gaming and entertainment.
Beyond the world of NFTs, the seventh largest cryptocurrency by market cap is also likely to enjoy support from its rising popularity among DeFi protocols. One of its offerings in the space, Hubble Protocol has closed a $10 million funding round just before its upcoming mainnet launch scheduled for later this month.
SOL/USD Technical Analysis
In a recent podcast, CEO at FTX Sam Bankman-Fried listed Solana as one of the most promising blockchain ecosystems for this year. He highlighted how its developers have laid out a strategy to scale the network to levels large enough to support "industrial-scale usage" – a key factor which can drive mainstream adoption of blockchain technology.
On the H4 chart of SOL/USD, most of the moving averages are painting a bearish picture. On the other hand, popular technical indicators MACD and momentum are revealing some interest among buyers in the market.
Solana's price is sitting under the pivot point at $145.29 but holding above the immediate support at $x132.71. With buyers keeping away from the crypto market, we need to keep an eye on the support as it could be tested amid increased selling pressure.