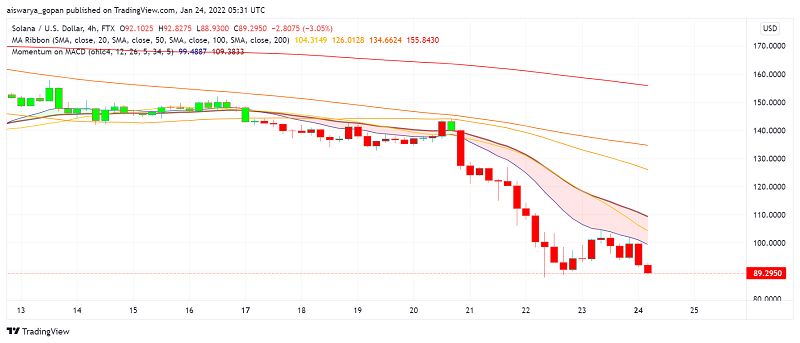 SOL Price Prediction: Will Solana Test Support?
Solana (SOL) extends its losses into early trading on Monday, feeling the weight of the bearish mood on the overall crypto market in addition to news about a possible network outage scaring investors away from one of the most praised potential Ethereum killers. At the time of writing, SOL/USD is trading at around $89.29.
Unlike some cryptos that registered gains over the weekend, Solana remains firmly in the bearish territory, sliding under the key $100 level. Bloomberg reported that the high speed network has been plagued with "excessive duplicate transactions", which have affected validators who are using their computer power.
The blockchain which touts one of the highest throughputs in the market at present has been plagued with network congestion and degraded performance issues in recent weeks, with several users reporting failed transactions. To offset the worst effects of this, Solana's developers rolled out version 1.8.14 late last week, which could resolve some of the challenges over the coming weeks.
However, the outage – which was the second so far this month, has caused severe losses among Defi users within the Solana ecosystem. Users who took loans faced heavy liquidations as a result of the network outage and are unlikely to have their confidence in the network restored anytime soon, as a result.
Several crypto experts have also called into question Solana's capabilities in taking on DeFi leader Ethereum which is also facing its own set of challenges related to network congestion. The loss of capital among investors and users is sure to have hurt confidence in the blockchain even as the entire crypto market experiences somewhat of a rout lately owing to uncertain outlook for the future.
SOL/USD Technical Analysis
On the 4-hour chart of SOL/USD, moving averages are exhibiting a strong bearish bias. However, the popular technical indicators MACD and momentum are pointing to the presence of bulls.
Solana's price is well below the pivot point at $111.93 although it is holding above the immediate support at $75.53. Let's see if the selling pressure builds up further as we could then see a test of this support.
Cryptocurrencies were showing strong bullish pressure in the first two months of 2023, but the bullish momentum has faded
3 weeks ago