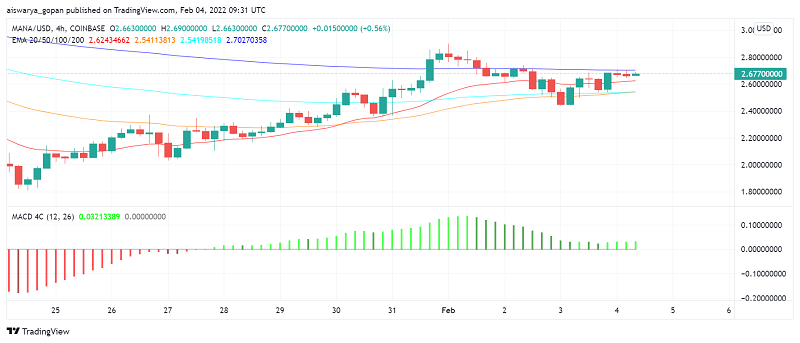 Will Decentraland (MANA) Head Lower Despite Strong Fundamentals?
Decentraland (MANA) is making its way higher, shrugging off the news about weaker than expected earnings for Mark Zuckerberg's Meta, formerly Facebook, on the back of rising adoption of the metaverse among brands and users. At the time of writing, MANA/USD is trading at around $2.67.
One of the biggest updates lending support to the MANA token is how Decentraland's virtual casino, ICE Poker, has generated $7.5 million worth of revenue in the past three months. The P2E poker platform enjoys the attention of around 6,000 unique users daily and accounts for over 30% of daily unique users on Decentraland, making it one of the biggest contributors of on-chain activity.
There is also rising optimism among investors about the potential of the metaverse, especially on the back of news about Canadian tech company TerraZero issuing a $45,000 mortgage on Decentraland's ecosystem. The company announced that they took this step after receiving interested inquiries from hundreds of users every day who were looking to buy virtual land in the metaverse.
The demand for the metaverse is on the rise among consumers who are looking at digital parcels of land as an investment opportunity, although far more affordable than physical real estate. A news report by ABC News showcases the growing trend of buying up virtual land among Australian consumers who are convinced of the revenue generation potential of owning parcels of land on Decentraland and similar metaverse ecosystems.
Rising Adoption of Decentraland's Metaverse Among Brands
Decentraland's adoption among brands is also on the rise. One of the most interesting recent updates was from Miller Lite that will soon unveil the Meta Lite Bar on the Decentraland metaverse. The virtual bar will feature games such as billiards and darts, a photobooth, a jukebox and even wearable branded NFTs.
This comes only a week after Valdé Beauty held a product launch party in the Ainsley Gallery within Decentraland. The event was quite like a real-life launch party, with a live DJ, the presence of influencers and product displays. In addition, the company's launch of three limited-edition luxury lipstick cases were also displayed in the gallery as NFTs and available for purchase from NFT marketplace Bitski.
MANA/USD Technical Analysis
Taking a look at the H4 chart of MANA/USD, smaller moving averages and the MACD suggest some buying interest. However, the medium and larger timeframe MAs as well as the momentum indicator suggest a bearish bias among investors.
Decentraland's price is just above the pivot point at $2.65 and if the buying momentum strengthens, we can see it head higher until the first resistance at $3.61. However, if more sellers jump in and short their positions, we could see MANA slip under the PP and head towards the immediate support at $1.87 instead.
According to crypto analytics firm Santiment's Director of Marketing, Brian Quinlivan, it looks like several investors are shorting their positions in Decentraland. In a recent YouTubte video, he shared, "It's pretty cyclical, and right now, this is one of the most bullish metrics for MANA, because there's such an immense amount of shorting that… these huge spikes are bound to be liquidated at some point because people shorting to this extent usually doesn't go too well."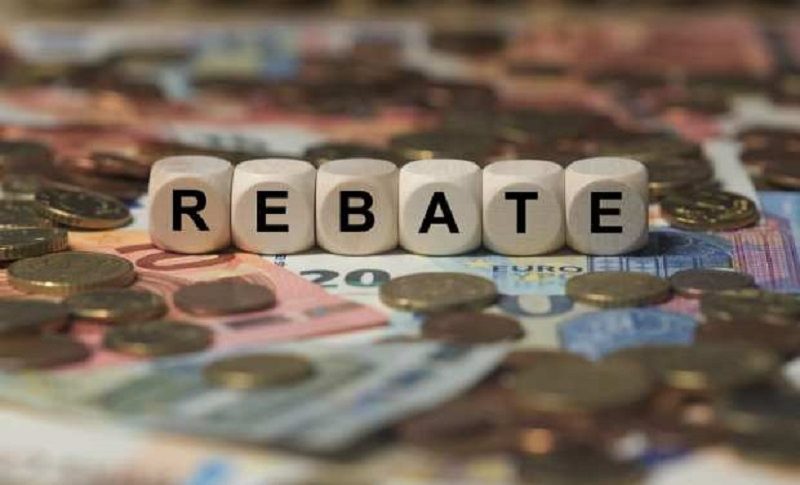 3 weeks ago
Cryptocurrencies were showing strong bullish pressure in the first two months of 2023, but the bullish momentum has faded
9 months ago