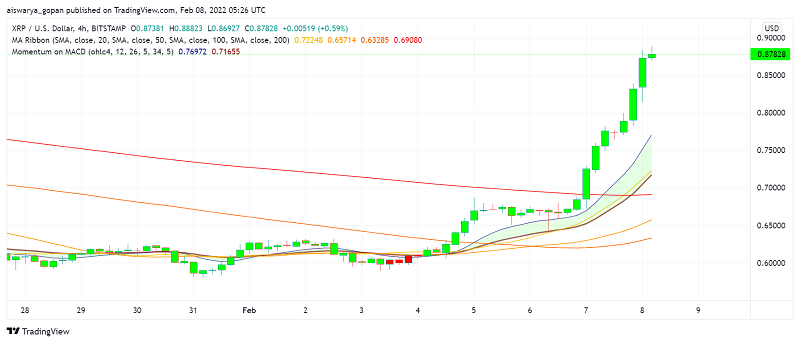 Ripple's XRP Price Prediction: Bullish Breakout to $1 Next?
On Tuesday, Ripple's XRP continues to surge ahead and remain one of the biggest gainers across the board over positive developments in the lawsuit which suggest a legal victory for the company. At the time of writing, XRP/USD is trading at around $0.87, up by over 20% in the past 24 hours.
Latest Developments in Ripple vs. SEC Case Support XRP
What spurred the buying activity was the judge presiding over the case unsealing three sets of documents. According to crypto lawyer John Deaton, who represents the interests of more than 64,000 XRP holders, the new evidence could make it "near impossible" for the SEC to prove its point that Ripple was indulging in the sale of unregistered securities.
Judge Analise Torres has given Ripple permission to respond to the SEC's Memorandum of Law to present its fair notice defense. The key documents unsealed include Ripple CEO Brad Garlinghouse's email threat and deposition notice as well as the company's founder Chris Larsen's email conversation.
In addition to Deaton, another attorney who closely monitors and breaks down the legal proceedings Jeremy Hogan also forecasts that this move suggests that the lawsuit has picked up pace and could be a sign of an impending verdict. He expressed optimism which was soon picked up and shared by the XRP Army, with several users taking to social media to support the cryptocurrency and cheer the latest developments.
The progress in the lawsuit and surrounding upbeat social sentiment, coupled with a bullish mood in the overall crypto market, have helped Ripple's XRP soar past the $0.80 level and head on higher. We can see the crypto continue its climb in the near term on the back of these fundamentals.
The XRP finds additional support from a JP Morgan report which reveals that, despite rising adoption of Ripple's technology to enable cross-border remittances, the crypto's price action remains closely correlated with that of Bitcoin. This is due to Ripple's consumers not using XRP to facilitate transactions on the ODL, as a result of which the adoption does not have any direct impact on XRP, keeping the market sentiment as the key driver determining price trends instead.
XRP/USD Technical Analysis
Technical analysis of the 4-hour price chart of XRP/USD reveals a strong bullish bias among moving averages and popular technical indicators MACD and momentum. Looks like buyers are aiming to overtake the key $0.90 level next.
Ripple's XRP is trading well above the pivot point at $0.65 and has broken past all key resistance levels – $0.72, $0.75 and even $0.86. As long as the positive momentum sustains, we could see a bullish breakout which could test $1 in the near term.