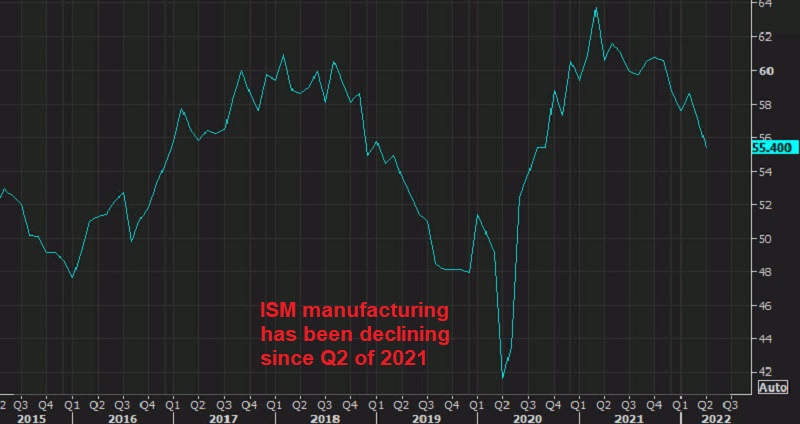 The 20 SMA Keeps EUR/USD Down, Displaying Weakness
EUR/USD has been bearish since the beginning of summer last year, after reversing above 1.20 as inflation increased above 5% in the US, which forced the FED to turn hawkish and start hiking interest rates already. They increased them by 25 bps to 0.50% in the last meeting and are expected to increase them by another 50 bps to 1.00% later this week, which you can follow on our forex calendar.
The ECB on the other hand, has been hesitating to increase interest rates which has been keeping the Euro down. Although they might be right this time since inflation has come from price hikes rather than from an economic boom, so rate hikes won't do much to stop inflation. EUR/USD remains below the 20 SMA (gray) on the H4 chart as shown below, despite the cool-off in USISM manufacturing. We have opened a sell signal in this pair, so we're waiting for the reversal down to take place.
EUR/USD H4 Chart – The 20 SMA Keeping the Price Down
EUR/USD has been finding resistance at the 20 SMA
US April ISM Manufacturing Report
ISM April US manufacturing 55.4 points vs 57.6 expected
March ISM manufacturing was 57.1 points
Prices paid 84.6 points vs 87.5 expected (87.1 prior)
New orders 53.5 points vs 53.8 prior
Employment 50.9 points vs 56.3 prior
Inventories 51.6 points vs 55.5 prior
Consumers' inventories 37.1 points vs 34.1 prior
This reading matched the September 2020 low.
"Tier-2 supplier shutdowns in Shanghai are causing a ripple effect for our suppliers in other parts of China. Long delays at ports, including in the U.S., are still providing supply challenges. 

Inflation

is out of control. Fuel costs, and therefore freight costs, are leading the upward cycle. At some point, the economy must give way; it will be tough to have real growth with such pressure on costs. Despite the issues and poor outlook, business remains brisk." [Chemical Products]
"Continued strong demand with improvements in the supply chain. Delays still exist, but supply issues are slowly improving. Cost increases in multiple categories." [Transportation Equipment]
"Supply chain is still constrained, and prices continue to rise. We are focusing on ways to stay profitable while continuing to fill customer orders. Relationship management and strong negotiation skills are extremely important right now." [Food, Beverage & Tobacco Products]
"New order entries are still very strong. Unfortunately, logistics issues have (not) yet improved, so lead times remain extended." [Machinery]
"Due to electronic component supply chain issues, production output has been lower than normal. Backlog is growing due to supply chain issues. New order sales are steady, except international orders are lower." [Fabricated Metal Products]
"Business is strong. Backlog continues to grow due to new orders and inconsistent supply chain conditions. Shortages of components are the main factor limiting our production." [Electrical Equipment, Appliances & Components]
"The shutdowns in China due to a new COVID-19 wave are causing supply concerns for late second quarter and early third quarter. We have extended lead times to customers and are ordering products from China to cover demand through Q4 and early 1Q 2023." [Miscellaneous Manufacturing]
"Overall, improvements in the supply chain are occurring on larger scale items, but we see suppliers that sell us low-volume items struggling in some cases with getting feedstocks and raw materials they need. Freight continues to plague things as well." [Nonmetallic Mineral Products]
"Business is still very robust. Material price increases continue to be passed on (to customers) based on costs of raw materials, logistics, and labor to produce products." [Plastics & Rubber Products]
It will be interesting to see how the market handles sliding ISM manufacturing numbers. Companies are desperate for hiring to ease up and for order books to normalize. In the context of the extreme strength over the past year, that's contractionary but it's what both manufacturers and the Fed wants. At the same time, it will cause people to scream 'recession'.