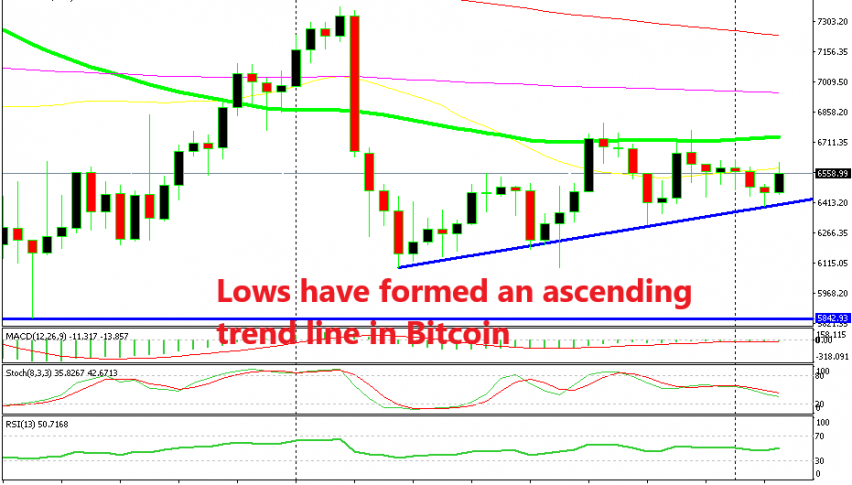 Bitcoin Tries to Turn Bullish in a Weak Attempt
Cryptocurrencies have been on a major bearish trend this year, including Bitcoin. Although, a base has formed for Bitcoin around the $6,000 level. Bitcoin has formed a support area around that level which the sellers haven't been able to break since early February…
Bitcoin traders have been respecting that level as we have seen this cryptocurrency reverse higher every time we get close to the $6,000 level by $100, either above or below it. But recently, we have seen that the lows have been getting higher for Bitcoin.
As you can see from the chart above, the low back in August was at $5,850 while in September, the lows have been getting higher. This means that sellers are closing their positions higher while buyers are opening their positions higher as well.
This has formed an ascending trend line which connects recent lows since early September. This is an encouraging sign for buyers. But on the other hand, we are not seeing Bitcoin make new highs. In fact, the highs have been getting lower.
Anyway, if the lows will keep getting higher, we will see Bitcoin break the 50 SMA (yellow) and, more importantly, the 100 SMA (green) and turn bullish at some point. Yesterday, the price formed a small pin candlestick which is a reversing signal. Today, the candlestick looks bullish so the reverse is taking place after trending down for several days.
But again, if the buyers don't push above the moving averages, then we will see the sellers make their move soon. So, neither side is winning at the moment until one side makes a decisive move.