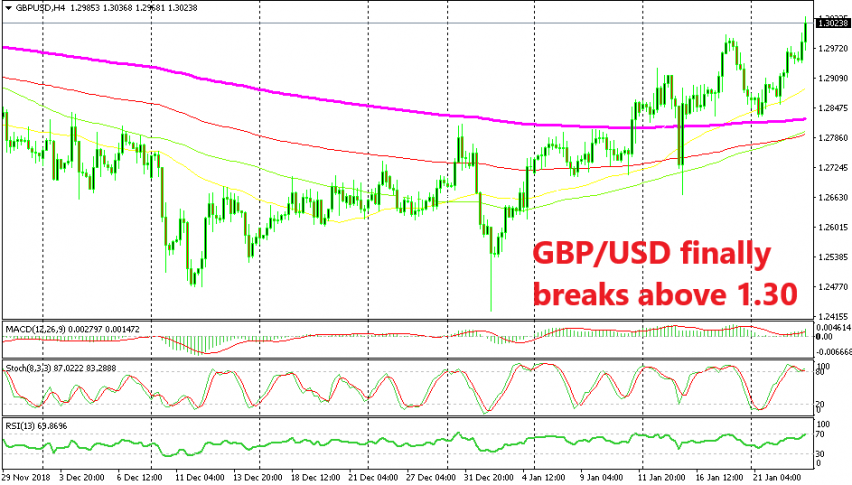 GBP/USD Breaks 1.30 After Finding Support at MAs, as Chances of No-Deal Brexit Diminish
GBP/USD turned bullish early this month after bottoming out at 1.4220s on January 3rd. It has climbed higher and kissed the big round level at 1.30 last week, but it failed to break that level in the first attempt and reversed back down, giving back around 170 pips.
But, that wasn't a reversal; it was merely a retrace of the uptrend that started earlier this month. GBP/USD found support at the 200 SMA (purple) which had provided resistance before. So, the resistance indicator turned into support, what a surprise.
The stochastic indicator reached the oversold levels at the beginning of this week when the price was leaning against the 200 SMA, so that chart setup pointed to a bullish reversal which came pretty soon. The 50 SMA (yellow) also added some strength to that support area.
Today this pair made another leg higher, climbing around 100 pips during the European session. The buyers finally managed to push above the 1.30 resistance level, although rumours of a no-deal Brexit have helped improve the sentiment for the GBP. Odds of a no-deal Brexit have been declining and last week they stood at around 11-12%.
Today, Reuters reported that the British opposition Labour Party would back the Yvette Copper's amendment which lays out the option for the British Parliament to come up with a Plan B for Brexit if Theresa May fails, in order to avoid a no-deal Brexit. So, I assume that the odds of such a Brexit scenario should have diminished further. That's great for the GBP and the GBP buyers are making the most of it.