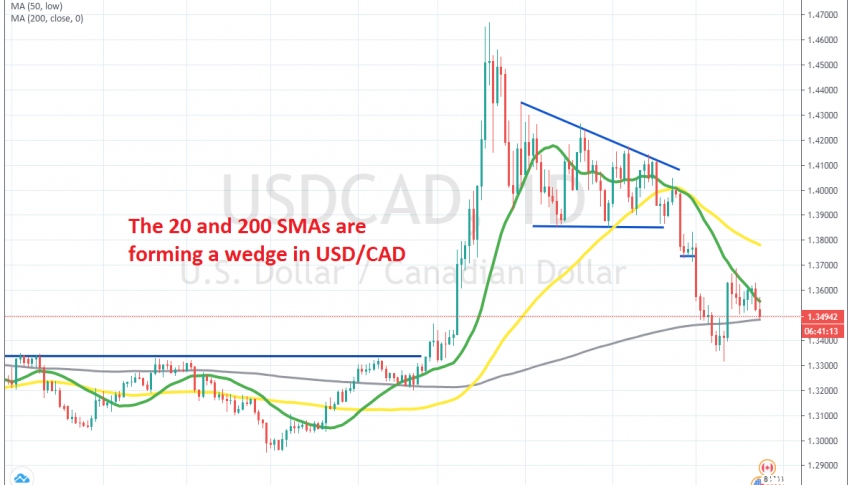 Breakout Expected in USD/CAD, As It Gets Squeezed by MAs
USD/CAD surged more than 15 cents higher during the first half of March, as coronavirus broke out and the risk currencies such as the CAD dived lower. Another reason for the surge was the crash in crude Oil prices, since the CAD is closely correlated to Oil.
But, the climb ended at at 1.4670 and USD/CAD returned back down, falling below 1.40 in the second half of March. During April and most of May, USD/CAD formed a base at 1.3850s, while the highs were getting lower, so a wedge was forming, pointing down.
The bottom of the wedge was eventually broken towards the end of May, as the USD returned weak, which is still continuing, while crude Oil came back form the dead and is trading above $40 now. Who would have thought this two months ago  when US WTI crude was trading at -$37.
Anyway, USD/CAD fell to 1.3315 last week, but bounced back up, as the USD retraced somewhat. This time, the 100 SMA (green) turned into resistance, which stopped the climb and this moving average has been pushing the price down since then.
At the bottom, the 20 SMA (grey) is providing support on the daily chart, so a smaller wedge is forming here and it also points to a bearish breakout, since the pressure remains on the downside. If the 20 SMA gets broken, then we might use it as a selling indicator if USD/CAD retries it from the downside.