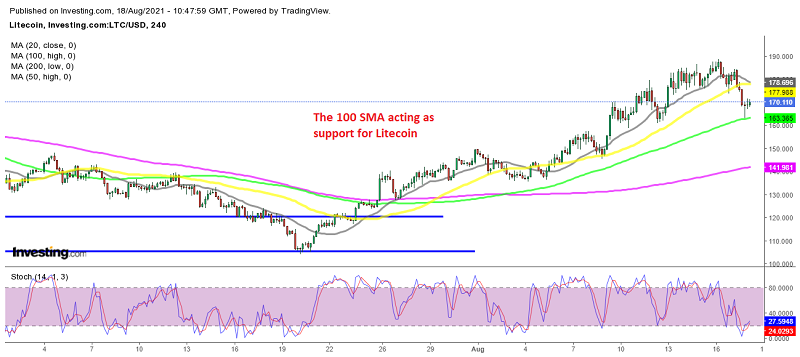 Buying the Pullback in Litecoin at the 100 SMA
Litecoin has just gone through the biggest retreat since the bullish momentum returned to the crypto market about a month ago. After the crash, which lasted more than two months, cryptocurrencies turned bullish towards the end of July, and we have seen quite a climb higher during this time.
The pullbacks lower have been really weak during this period, showing that buyers have been in total control, buying every retrace lower. Smaller moving averages have been acting as support during such pullback, also showing that buyers were not waiting for the price to retreat lower.
So, the retreat that we saw yesterday is the deepest one we have seen in a month. I haven't seen much that could have sent this market down, apart from the RIPPLE-SEC lawsuit, which continues in the US. So, this looks like profit-taking by traders who were long on cryptos from below.
LTC/USD
Litecoin reversed down from above $188 on Monday, and last night the price fell to $163. The moving averages, such as the 20 SMA (gray) and the 50 SMA (yellow), which were pushing the price higher, were broken without much resistance, but it seems like the 100 SMA (green) has turned into support.
That moving average stood right at $163, which was the bottom of this move, and now we are seeing LITECOIN forming a bullish reversal chart setup. The price bounced off that moving average, forming a pin candlestick, which is a bullish reversing signal. There was no immediate follow-through, which would mean a bullish candlestick after the pin, but the price action is showing that LTC/USD is itching to move higher. So, we decided to open a buy Litecoin signal, based on the H4 chart setup, and now we are waiting for the reversal to come and for the bullish trend to resume again.