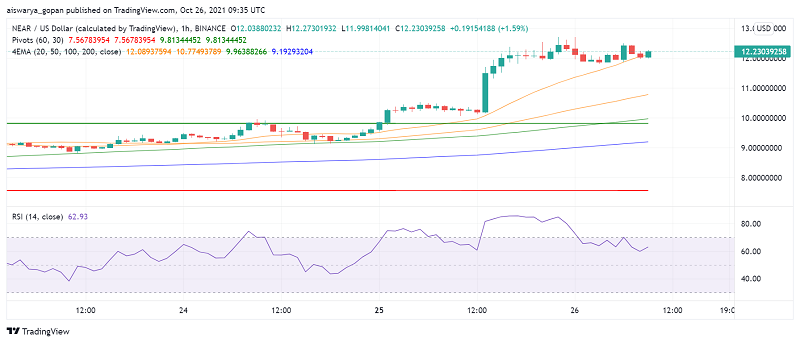 NEAR Protocol Announces $800 Million Ecosystem Fund
Climate neutral blockchain NEAR Protocol has announced a record high grants program, worth $800 million, to develop its ecosystem, following in the footsteps of several of its peers lately, such as Avalanche, Fantom and Celo. The fund includes $250 million worth of grants to be distributed over the next four years, a $100 million regional fund and even $100 million set aside exclusively for startups.
NEAR's fund will also work to boost its DeFi capabilities and offerings, with Proximity Labs announcing $350 million worth of funding solely for this purpose. Proximity consists of early contributors to NEAR Protocol who now operate as an independent entity with funding from the NEAR Foundation and will form a DeFi DAO for governance of the funds.
So far this year, NEAR Protocol has already distributed $45 million in funds to develop early stage ecosystem building blocks, including smart contracts and supporting EVM contracts. After working on developing the infrastructure of the blockchain, the next area of focus will be expansion.
More on the NEAR Ecosystem Fund
In addition to DeFi, NEAR Protocol's funds will also be used to develop DAOs, NFTs and even gaming within its ecosystem. According to latest data from Defi Llama, DeFi projects on NEAR have a TVL of $150 million, which is expected to rise as more developers receive grants and start creating dApps in this space on its blockchain.
The NEAR Protocol had launched in April 2020 after a token sale from prominent backers such as Andreessen Horowitz and Pantera Capital. Towards the end of the year, the blockchain network will roll out its next phase sharding, which will enable it go from one shard to four and bring about higher levels of scalability.
NEAR/USD Technical Analysis
Ranked 35 in terms of market capitalization, NEAR is up by over 17% in the past 24 hours since the announcement of the grants program. At the time of writing, NEAR/USD is trading at around $12.23.
On the H4 price chart of NEAR/USD, we see a strong bullish bias among moving averages and leading technical indicators MACD and momentum. However, the RSI is flashing sell at the moment as well.
NEAR's price is well above the pivot point at $9.05. In addition, it has also smashed past resistance at $10.50 and $11.40 and appears to be making its way towards the third resistance at $13.75 soon.