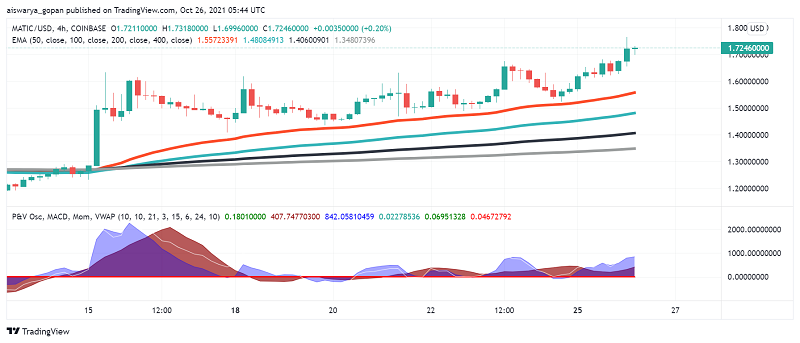 Polygon (MATIC) Makes Gains – Investor Interest, NFT Adoption Soar
Pooygon (MATIC) is trending higher on Tuesday, buoyed by rising adoption of its ecosystem by projects even as cryptocurrencies in general attract more buyers into the game as market leaders Bitcoin and Ethereum as well as most altcoins chalk out gains. At the time of writing, MATIC/USD is trading at around $1.72.
Investor interest in the leading Layer 2 Ethereum scaling solution is on the rise, especially as more projects make their way to Polygon which offers higher scalability and efficiency than the Layer 1 blockchain Ethereum. Earlier this month, a provider of DeFi index products, Amun announced the launch of Polygon Ecosystem Index (PECO) token to allow investors to make the most of the soaring popularity of the network.
The PECO token is available on Amun's platform, and is an index of the popular projects being developed on Polygon. The initial composition of PECO is 50% MATIC and 50% into leading protocols within its ecosystem, including Quickswap, DFYN, Adamant Finance, Aavegotchi and Qi Dao. PECO will be rebalanced on a monthly basis, giving users access to consistent gains while accommodating for changes to market cap and liquidity.
Polygon's NFT Ecosystem Getting Bigger
Polygon has been getting rather busy in the world of NFTs as well lately. Night Life Crypto has integrated with its ecosystem to launch its debut series of integration NFTs in addition to using its infrastructure for all in-game NFT rewards within their flagship game Night Life Drifting.
Hong Kong-based GameFi firm PTE Game's Idle Mystic is one of the fastest growing Play-to-earn games in the Polygon ecosystem and is the world's first 3D NFT game, with over 50,000 registered users. The NFT trading game lets users buy heroes from the Idle Mystic official store or even from other players on third-party marketplaces, buying and selling NFTs to build their dream team of heroes and gain more power and earn more rewards.
MATIC/USD Technical Analysis
On the 4-hour chart of MATIC/USD, moving averages along with leading technical indicators MACD and momentum are exhibiting a strong bullish bias. This indicates room for more upside in the near-term.
Polygon's price is holding well above the pivot point at $1.56 and has even broken past the first resistance at $1.68. The next target for buyers is coming up soon at the second resistance at $1.79, a break past which opens the door to the key $2 level.