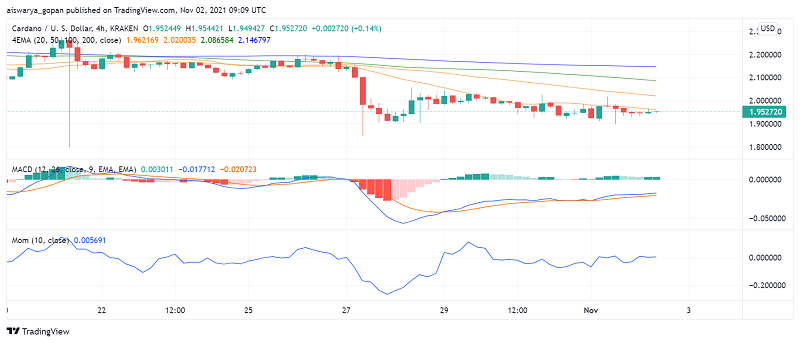 Is Cardano (ADA) Getting Ready For a Breakout Past $2?
Cardano (ADA) appears to be making a feeble attempt at climbing higher but its persistent weakness has caused it to slip from being the third largest crypto by market cap at its peak to the fifth ranking at present. At the time of writing, ADA/USD is trading at around $1.95.
Despite the bearish moves continuing, interest in the digital asset remains strong among institutional investors. According to latest data from CoinShares, Cardano registered weekly inflows of $5 million over the past week, making it the fourth most popular cryptocurrency to invest in, after Bitcoin, Ethereum and Solana.
In terms of development of the blockchain, its Co-founder Charles Hoskinson remains optimistic that traffic could pick up in the coming months. At a recent AMA session in Africa, Hoskinson spoke about the need for Cardano's Layer-2 scaling solution Hydra and how his team is looking to accelerate work on it because of it being high priority from a commercial perspective.
Upcoming Projects on Cardano Worth Watching
Meanwhile, the first community-driven NFT platform on the Cardano network, Cadalabs Protocol, recently concluded its phase 1 pre-sale of its native token CALA. The second phase of the pre-sale putting out 10 million CALA tokens at 0.25 ADA per token is available for sale 1-3 November with a 5% bonus. Once the pre-sale process completes, the project will launch the Cadalabs NFT Marketplace, which should power some activity on the network in the coming weeks.
One more interesting project in the Cardano ecosystem to look out for is launchpad Idowall, which has started the seed-sale of its native token $WALL on November 1. The platform will support token presales from different launchpads, all featured after vetting so users will not lose their money by investing on scam projects.
An interesting use case of Cardano's technology was recently announced in Africa by blockchain startup 3air. The company is partnering with K3 Telecom to provide internet connectivity using decentralization, making broadband connectivity more accessible to a wider population across the continent. The solution will be developed on the Cardano blockchain along with the use of K3's physical infrastructure.
ADA/USD Technical Analysis
According to leading crypto analyst and trader Benjamin Cowen, Cardano could be in a consolidation phase after eking out almost 11,000% in gains since the lows from March 2020. While he expects some upside to take ADA back to $2.25-2.50, stronger gains beyond these levels could take at least another month or possibly even longer. This ties in with the launch timeline of several projects on the network, following which we could see an uptick in on-chain activity taking the price higher.
Technical analysis of the 4-hour chart of ADA/USD suggests a strong bearish bias among moving averages. However, popular technical indicators MACD and momentum point to some interest among buyers as well.
Cardano's price remains under the pivot point at $2.00; however, the immediate support at $1.80 is holding up well. We could see ADA continue to consolidate under the key $2 level until the bullish pressure builds up and the price breaks out higher.