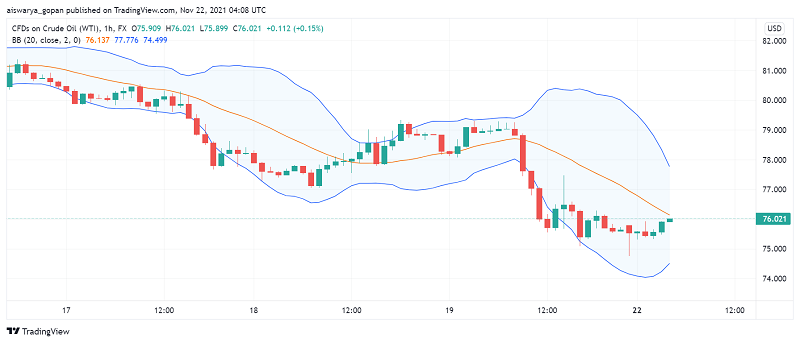 WTI Crude Oil Falls to Seven-Week Lows as Europe Sparks Lockdown Fears
WTI crude oil is starting the fresh trading week on an extremely bearish footing, falling to the lowest levels seen in two weeks over rising worries of possible oversupply in markets as key energy consumers consider releasing strategic reserves. At the time of writing, WTI crude oil is trading at around $76.02 per barrel.
During the previous session, WTI oil lost as much as 3% of its value over worries about resurgence in COVID-19 infections bringing back lockdowns and restrictions through European countries. The commodity faced additional pressure to the downside after US President Joe Biden urged key energy consuming nations such as India, China and Japan to consider releasing their strategic reserves in a bid to bring down soaring oil prices.
Over the weekend, news reports suggested that Japanese PM Fumio Kishida is planning to go along with the US, bringing down oil prices as markets opened on Monday. However, there is some uncertainty on how Japan will pull off such a move as its laws state that it can release SPRs only if supply tightens or in the event of natural disasters.
The COVID-19 pandemic is back to darken the mood among oil trader, with Germany – Eurozone's most powerful economy, considering a full lockdown in the wake of rising death toll. Meanwhile, Austria is also planning to impose tighter curbs after implementing a partial lockdown as it struggles to contain the caseload.
Meanwhile, the Biden administration once again pressed OPEC to regulate oil supply to offet soaring crude oil prices in global markets. However, geopolitical tensions in the Middle East could offer some support to crude oil, with conflict between the Saudi-led coalition and Yemeni Houthi rebels threatening to disrupt the global trade and navigation route around the south of the Red Sea.