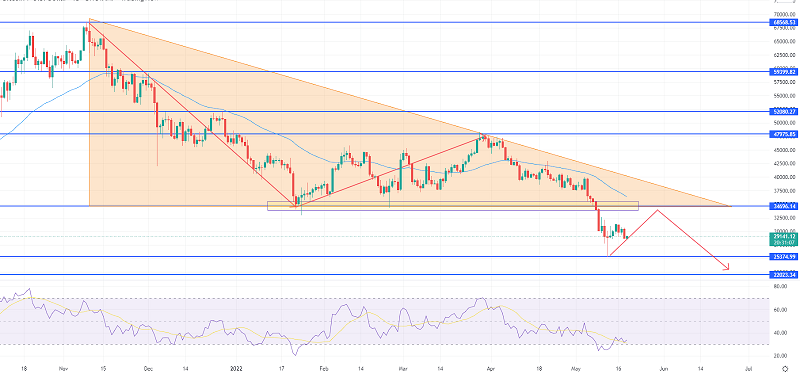 Bitcoin Price Prediction – Choppy Session Continues Under $30,000
Bitcoin has been consolidating at its critical support level of $30,000 and has been trading near its immediate support level for more than a week. The coin has lost nearly 6% of its value in the last week, and BTC has lost 3% in the previous 24 hours. However, BITCOIN and altcoins have been extremely volatile over the last week due to ongoing market weakness. The coin had dropped to $25,000, with BTC the last trading at that level in December 2020.
Bitcoin has recovered by $5000; however, a further drop cannot be ruled out. The coin's technicals pointed to continued market selling pressure.
At the time of writing, Bitcoin was priced at $29,100, having been rejected from the $31,000 price level. The coin's immediate resistance was $25,000. A drop below that level will send the coin straight to $19,000. If the bulls provide temporary relief, the coin will aim to move above the $30,000 price level and trade near the $31,000 resistance level. On the one-day chart, the volume of Bitcoin traded was in the red, indicating bearishness.
Bitcoin Technical Outlook
Bitcoin may have shown signs of stability on the chart, but further evidence suggests that the coin will soon fall again. King coin was trading below the 20-SMA line, indicating that sellers dominated the market's price momentum.
Buyers' support can push the coin above the coin's immediate resistance level of $30,000. The coin has formed a bearish flag, so buyer support appears improbable. A bearish flag indicates further bearish pressure, which could cause the coin to trade below the $20,000 support level.
The coin's price had not been above $20,000 in over a year. The Relative Strength Index was below the half-line, indicating that sellers remain in control, as indicated by the SMA lines. Good luck!